DJ Tim Westwood has been bombarded with sugar daddy requests after he accidentally shared his credit card details on Snapchat.
Featured Image VIA
Westwood, 59, thought he had sent the picture to his date so that she could buy herself something pretty, but he accidentally shared it for the world to see. As you can imagine, it quickly went viral.
He didn't realise what he had done until 20 minutes later, when he received a call from the bank saying the card had been used to make a shit ton of purchases. Gutted mate.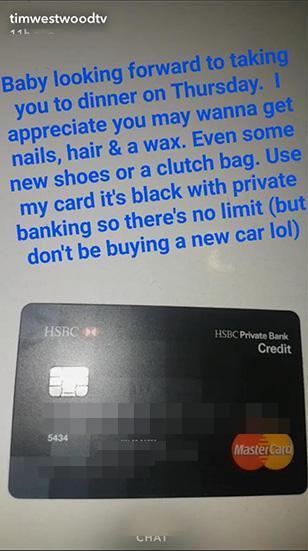 Here's what he had to say:
I've had all these women holla at me on Instagram message wanting me to be their sugar daddy.

They're saying, 'pay 5 grand into my account every month. I'll see you every week and I'll use that money to look good for you.' I do not want that. I do not want a kept woman. I don't believe in that.

It was a bit of a drag to be honest. I didn't realise I'd done that until the bank rang me. Within 20 minutes the bank rang me and they wanted to check I'd bought 12 Louis Vuitton bags for £4,700 each.

They'd also had another 60 (purchases) that were various, from Foot Locker to Nike Town, and then, as the lady was speaking to me, it went from like 72 and jumped up to 80, so she had to put me on hold while she blocked the card.
I'm sure you're all thinking what I'm thinking – I wish I'd got in there before he'd blocked the card. Could've got some things ticked off the wishlist and I wouldn't even feel bad because it's Tim Westwood acting like a slimy bastard. Seriously who expects and then pays for a woman's wax before going on a date with them? Creepy.
For the time someone stole Martin Shkreli's credit card and ordered a 55 gallon vat of lube to his house, click HERE.