If there was ever a perfect encapsulation of the TikTok generation, it's a Gen-Z girl getting stuck in a baby swing while filming one and going viral for it.
Featured Image VIA
That was 14-year-old Layani MacLean's experience in Oxford this week after she got trapped and had to call in the firefighters to be rescued while her friends bantered her on camera:
Teen gets trapped in baby swing while making TikTok https://t.co/2idOLk5rGT pic.twitter.com/0ceSdnuYMU

— New York Post (@nypost) July 14, 2020
Best part has to be the moment the firefighters turn up and just stand there with their hands on their hips looking at her in disappointment…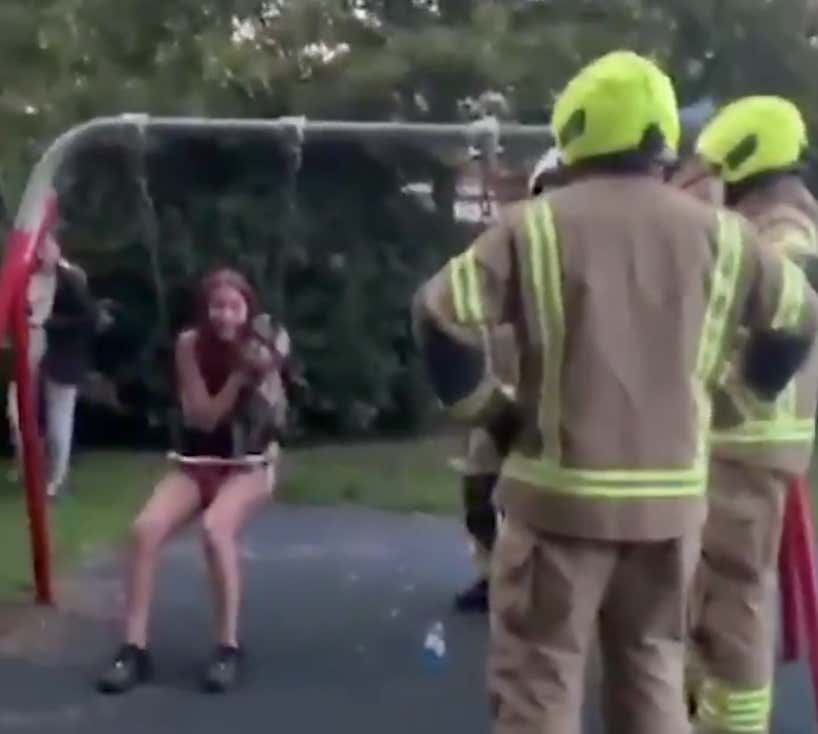 The craziest part about this though is that this girl actually accomplished her mission – going viral on the internet. OK maybe it wasn't on her intended platform of TikTok, but viral is still viral and I've got a feeling she's super happy about that and is thinking "OMG look at what happened to me!" rather than feeling like a dumbass for getting trapped in a baby swing at her big age.
Anyway, from the looks of it, seems like the rescue mission took a while as it was daylight when the firefighters turned up and they were still trying to pull her out at nighttime. No idea whether they're still there trying to cut her out now but I'm going to be optimistic and say she's safely back home enjoying all the attention online. I'm less optimistic about any lessons learned though.
For the TikTok girl who routinely goes viral for eating her own poop, click HERE. Sigh…