A Connecticut woman who used to be bullied for her massive mouth is now the proud owner of a Guinness World Record.
Featured Image VIA
Samantha Ramsdell broke the record for having the largest mouth gape of a female after going viral on TikTok, Guinness reported.
Samantha's mouth measures 6.52 cm or about 2.5 inches wide. Which is worth 1.7 million followers on TikTok, apparently.
I really wish Guinness wouldn't refer to Samantha's mouth as her 'gape', but congratulations in any case. Although TBH 2.5 inches sounds a little bit small for the world's largest mouth, but what do I know? This girl puts so many things in her mouth in order to show off how big it is that many of her videos actually come with a warning: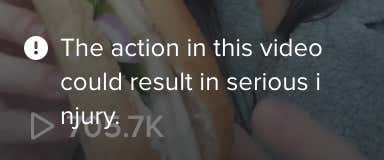 She can fit the entire radius of a massive sub sandwich in her mouth:
Blimey! 6 million people have also watched her shove a massive Cinnabon in there:
6.3 million watched her put every chip in a McDonald's large fries in her mouth:
Needless to say, this girl's got skills. I'm sure she's heard all the jokes and low-hanging fruit about her mouth from commenters on TikTok so I'll refrain from that. I do like how she dedicated her Guinness World Record win to the haters and bullies who gave her grief about her massive gob growing up though:
For me getting the Guinness Book of World Records title – it's finally almost being able to show some of the bullies or people who have doubted me or tormented me – that hey, like, yeah I have a big mouth… but at least I have the biggest one in the world.
Go Sam Go! She's working with what she's got and it's clearly working out pretty well for her. What are the haters up to? Probably serving her the foods that she's been shoveling into her mouth and going viral from.
Let's round this off with one last video of Sam shoving a record amount of donuts in her mouth:
@samramsdell5Reply to @funnygirlhaha88 let's see.. can I do an entire box of munchkins?😂 @dunkin call me
To meet the lady who's had £1,600 worth of lip fillers and plans to go even bigger, click HERE. Jeez.