There's no denying that a Jagerbomb probably takes your night to the next level when you're out with the lads, but I don't think there's ever really any need to do more than a couple in a night and certainly not 85 between the three of you.
This however was exactly what three absolute tanks decided to do on a recent night out in Harrogate. The three men – led by the legendary character of Andy Caine – started their day off with a couple of shots of absinthe before heading to The Fat Badger where they proceeded to order 85 Jagerbombs between them as well as a couple of 'regular' alcoholic drinks as well. Why not?
Ridiculously, Andy reckons that it wasn't even a big night for him and he didn't even have a hangover when he woke up, despite the fact that he drank the majority of Jagerbombs. Not sure if I can believe a word he's saying there because I would be absolutely legless if I consumed that many Jagerbombs, but here's what he had to say about it: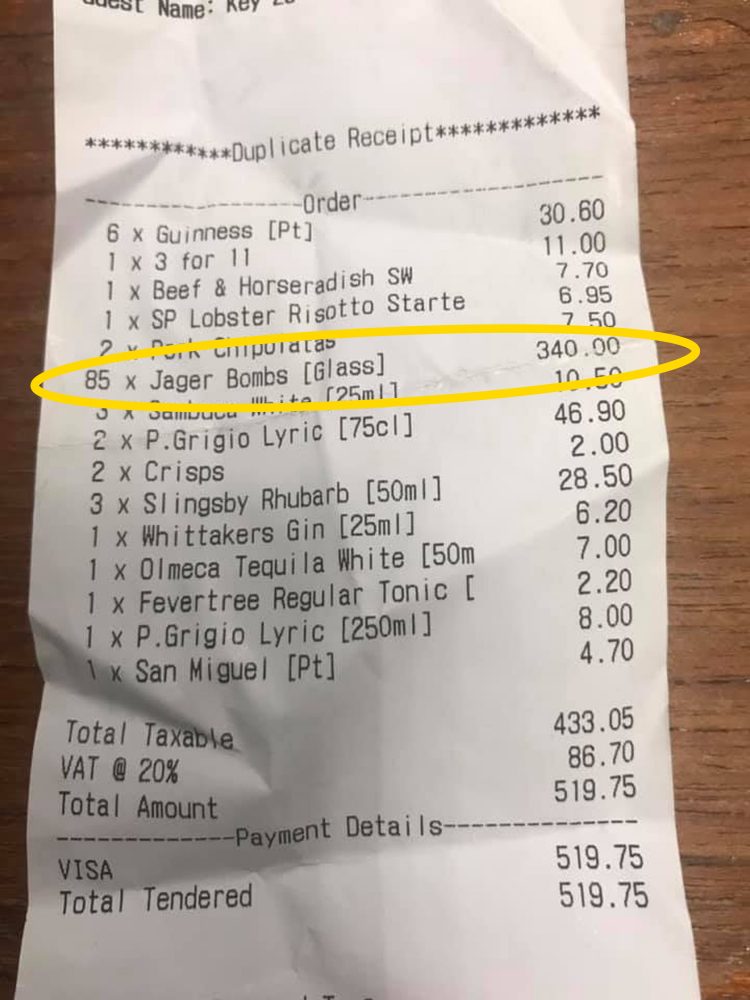 I just really like Jägerbombs. I was happy as Larry that night.


It was my turn to go to the bar – I don't know what time it must have been, quite early to be honest with you, but I just thought, oh I'll get some Jägerbombs.

Then we just got into the habit really. That's all it was. I think I took the lion's share of the Jägerbombs.

We bought three at a time, three at a time. I think I came back to the table at one point and we'd accrued some so I downed quite a few of them as a bit of a challenge.

I think I was generally called the ring leader on that one. I'm quite a tall gentleman – we're all quite well-built lads – so it takes quite a bit of alcohol to put us down really. I'm not an amateur.

It sounds like a childish brag, but this is quite tame really. It's embarrassing when I say it out loud.

We genuinely had not got a clue how much we had drunk until we had seen it on Facebook.

We had two shots of absinthe before we started drinking for the day. The moral of the story is don't start day drinking on absinthe or you'll end up spending £500. What a dickhead.

God knows how much we spent in the other bars as well. I won't be checking my credit card, to put it that way.
What an absolute unit. I can't actually believe that they moved onto another bar after they drank all this either and apparently only then because The Fat Badger had run out of Jagerbombs.
Really impressed with their drinking ability if it's all true, especially if it wasn't even a big night for him. What the hell constitutes a big night? 85 shots of absinthe? A hundred bottles of champagne? Really struggling to comprehend how they can do this sort of thing on the reg. Respect.
For more of the same, check out this girl downing the ultimate Jagerbomb. Yikes.