You can't really go anywhere at the moment without hearing about the Prince Harry/Meghan Markle beef with the Royal Family, and it looks like it's only going to get more explosive in the run up and aftermath of this Oprah Winfrey interview that's going to be broadcast on Sunday.
Featured Image VIA
Yesterday the Royal Family clapped back at Markle, claiming that she bullied members of her support staff so much that they were forced to quit and that these were people that were working for the Royal Family for years and had never experienced behaviour like it from anyone else in all their time there. This was backed up by an anonymous message sent to the notorious deuxmoi celebrity gossip Instagram account: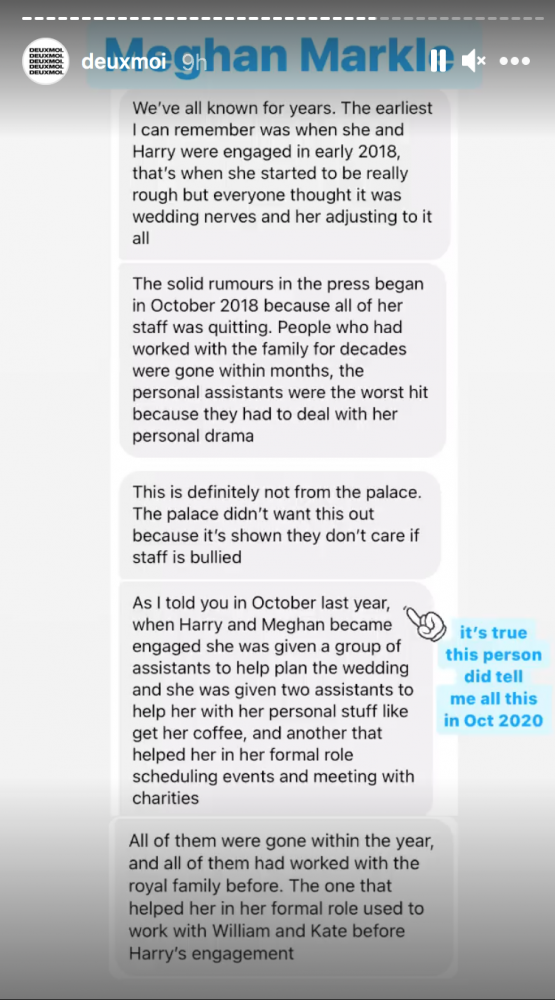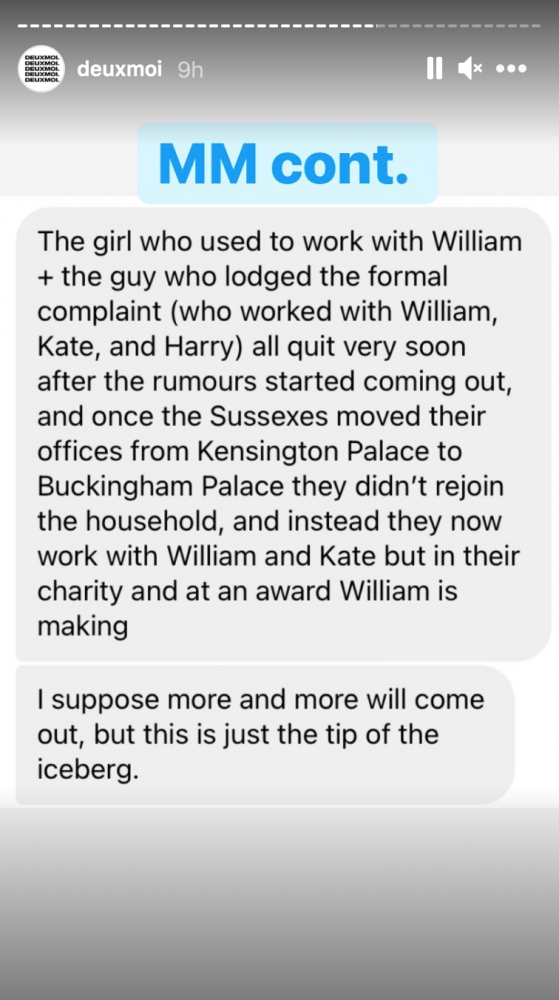 Sounds like it could be true hey? Only thing is, that ANOTHER thread has appeared on Twitter full of people who are claiming to have worked with Meghan when she was an actress on Suits and other productions, saying how she didn't have any ego and was a completely wonderful person to work with. Here are a few of the highlights:
I worked on a set in Toronto when Meghan was on Suits. The ADs, PAs, and other crew on my show who had also worked with her loved her. LOVED. Set dynamics being what they are… I do not believe this bullying narrative for a microsecond. https://t.co/451hrQB94r

— angela harvey (@nationsfilm) March 3, 2021
I worked on set with her too and then you know hair and make tell you who the divas are and she was so loved !!

— royal shell (@shellhun44166) March 3, 2021
It was more than that! They litterly whined about her sending 5am emails😤they NEVER welcomed her pic.twitter.com/k1vOKGhWyE

— Miriam088🌺 (@Success4Sussexs) March 4, 2021
I manage actors-yrs ago I met w MM for mgmt & spent some time w her. She decided on a different firm-I was bummed but we ran into each other at a big party a few nights after that, she flagged me down/we hung out cuz we liked each other-shes absolutely lovely

— colleen schlegel (@colleenschlegel) March 4, 2021
I know from working in Casting, if an actor is a problem believe me casting knows about it. CD's share information all the time. Also producers don't like to hire trouble. You're on a set for 12 hours, they only want pleasant people around. Meghan obviously has a good rep.

— jeff myrtlebank (@jeff_myrtlebank) March 4, 2021
Was a Suit fan from day 1. The fact that not one piece of gossip escaped that set abt her tells volumes. All her coworkers became a wall around her. Thank you for sharing!

— Regy💛💛💛 (@starrrways) March 4, 2021
Well, who to believe here? Doesn't really seem like anyone making these posts would have anything to gain from sending them out there other than sharing their truths, but I suppose you can't really be too careful about fake accounts posting crap to further their creators' agendas these days can you? All these accounts SEEM like they're authentic though, so what does that mean?
Of course, the most obvious answer is also the simplest – that Meghan probably was very nice when she worked on 'Suits' and whatever else, but then turned into a bit of a bitch when she married Prince Harry. The two aren't mutually exclusive and can easily exist in the same timeline of a person.
Whether or not either side of these accounts is exaggerated or fabricated is anyone's guess though. Make your own mind up and make sure you tune into the interview on Sunday I guess. It's gonna be a long month.
For more of the same, check out this thread about how the Royal Family may have set up Meghan Markle about the whole earrings controversy. Surely not?