The absolute worst thing about flying long haul is that your seat is usually completely and utterly cramped and you can't get any sleep and then are totally knackered when you get to your destination and the only way to solve this is to pay about £2000 for a business class ticket. Not ideal.
Images VIA 
Thomas Cook have come up with a solution with their sleeper seats though. These are seats that are available in economy and basically involve putting a mattress across a bank of seats and lying down on it to get some shuteye. There is a catch though – you have to buy your regular seat ahead of time and then pay an extra £200 to get the sleeper seat as well. You are allowed to swap seats with other people in your family and friends, so you can twos it at least if you want. Guess it kinda depends how long the flight is and whether or not it's worth it though hey?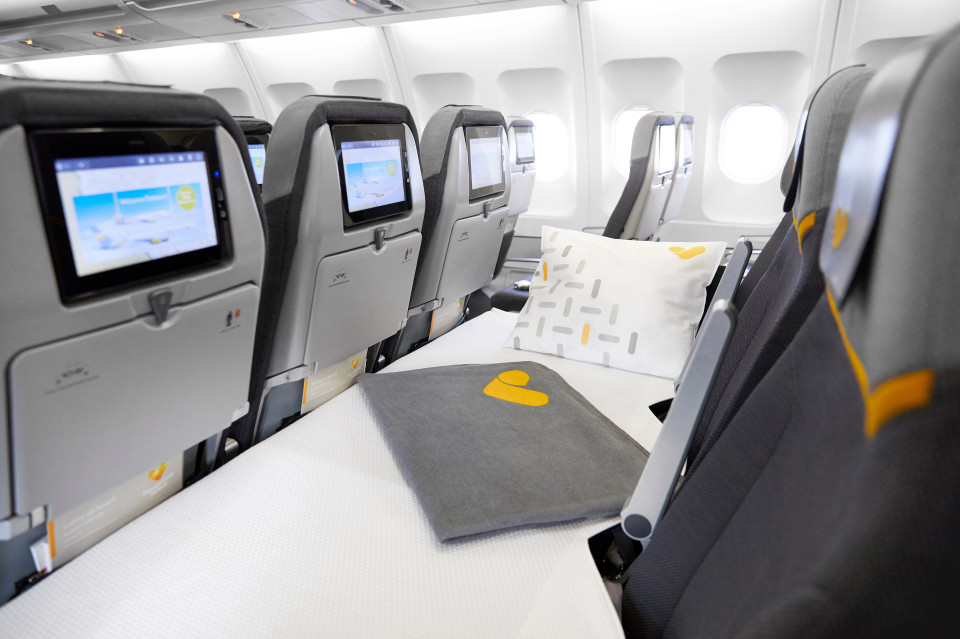 If you're wondering about the fine details of the bed itself, then don't because I'm about to tell you: they come with a special mattress with fitted sheets, head rest, pillow, blanket and amenity kit. Really does sound like it's got it all, except for the fact that the mattress looks rock hard. Amenity kit sounds kinda cool too – what do you think features in there? Some toothpaste? Socks? One of those masks you put over your eyes when you're sleeping?
Whatever's in there, because you're on a budget Thomas Cook flight and food and TV probably costs extra, maybe it's a better idea to spend a couple more bucks and just sleep all the way through in 'relative' comfort? Find out when they're implemented on May 13th I guess.
For more of the same, check out this story about a guy who sat next to a fat person on a plane and sued for injuries. Justified?