I don't think pizza has ever been described as a food that's good for you or that has any natural benefits, other than that it tastes absolutely delicious, but Domino's is claiming that their new flavour will actually improve your brain power.
Images VIA
The new pizza has been launched in the pizza magnate's new Durham branch and is known as the 'Crust To Cram' menu. It's been designed alongside nutritionist Caroline Innes, who explained the thought behind it: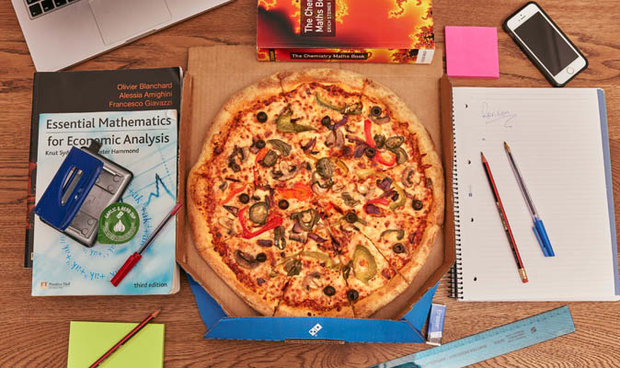 The brain needs a number of different nutrients to function effectively, such as glucose, vitamins and minerals, and essential fatty acids.

In collaboration with Domino's, we have looked to use a range of toppings to create the ultimate revision treat, proven to help with cognitive function.

For example, we chose chicken because it contains B vitamins which provides the brain with neurotransmitters serotonin, dopamine and GABA (gamma-aminobutyric acid); anchovies as they're rich in Omega-3 known to support mental development and visual acuity; black olives – a high source of vitamin E known to enhance memory and cognitive skills; and red peppers – full of iron to help accelerate oxygen around the body and into the brain.

Eaten in the right quantity, it could help improve concentration and memory, ahead of exams!
Right – I'm assuming that they aren't putting anchovies and chicken on a pizza together as that sounds rank and they're all just part of a variety of different toppings/pizzas you can use and that sounds OK to me.
I'm not really sure if I'm convinced that ordering one of this pizzas is actually going to boost my brain power though and it looks like I probably won't get the chance to test it out either if it's confined to this Durham branch. Anyone up there wanna try it our for me and let me know? It's available from December 12th, which is today so you know, go for it.
For more pizza, check out this fried chicken crust pizza. Dirtiest food porn ever.