Cheese is absolutely awesome – I once knew a vegan girl who wasn't fully vegan because she literally couldn't give up cheese – and it's an absolute wonder that this glue gun for cheese called The Fondoodler has only just come into existence given how popular the stuff is.
Images VIA
The Fondoodler basically does exactly what you imagine it to do. You whack a block of cheese into it and it gently melts as you squeeze the nozzle, oozing out a really delicious looking stream of your favourite melted cheese.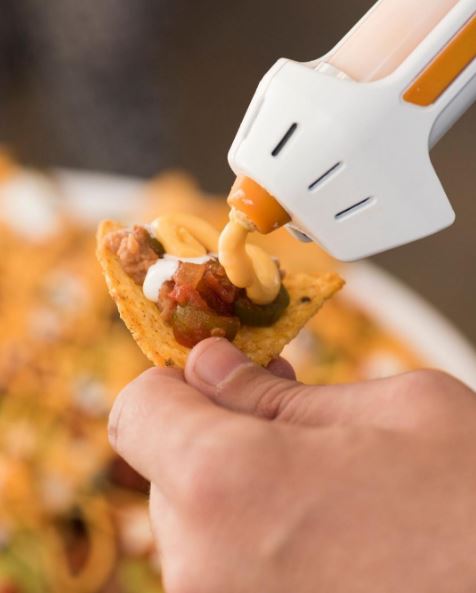 Obviously this is perfect for nachos, welding crackers together or pretty much anything – I mean what isn't made better by the addition of melted cheese? You can probably just whack it straight into your mouth if you're feeling particularly naughty and it's the weekend or something.
The Fondoodler comes with everything you need to make it work properly, including this cheese coring kit to make sure that you can get the perfect size tube of cheese into your Fondoodler. Then you just enjoy it – check out this video of it in action:
There is one snag with this though of course. Even though it's really cheap (around £20), you're going to have to ship it over from America which is probably going to cost a fair bit in customs fees and shipping. However, that's probably only going to be around £20 more and I expect that many of you reading this would probably be willing to pay such an amount for such an incredible invention. Gonna order one for Christmas right now.
For more incredible cheese, check out some of these absolutely delicious looking grilled cheese sandwich combos. Should be pretty easy to make with my new Fondoodler.