According to LiveLeak, this video features a Colombian thief being escorted away from some angry locals who aren't best pleased with his thieving antics.
Featured Image VIA
Unfortunately for the thief, one of them decides to pick up a rock/boulder and lob it with stunning precision right into the back of his skull. Seriously, what a throw:
https://www.youtube.com/watch?v=_YN0IW1mkCs
Let's see that again: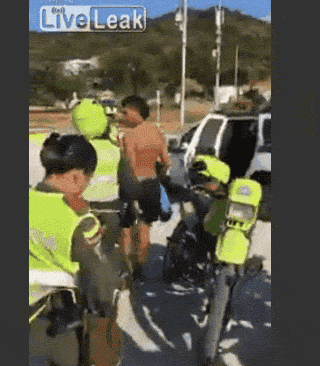 Lights out. Lucky for the rock thrower those cops took no interest whatsoever in who threw the rock. Nice to take a laid-back approach to the job but probably want to let the locals know it's generally not OK to do that sort of thing.
For more vigilante justice, here's what happened when a group of hardcore Russians tracked down a notorious paedophile (NSFL).