In a week of series finales – Game Of Thrones and The Big Bang Theory both drew to a close this week – it seems only fitting that something else that stuck around for way too long than it was needed would also draw to a terrible conclusion this week with the resignation of Theresa May.
Images VIA
Anyone who has been following the Brexit crisis – so the whole country pretty much – will have seen our power slowly ebb away from her over the last few months, culminating with her pictured in tears in the back of her car yesterday as she desperately clung to her power by literally refusing to meet other members of Parliament to discuss it. She resigned again in tears on the steps of Downing Street this morning after another backlash by MPs in her own party over her new Brexit plan made her position completely and utterly untenable. She apologised for not being able to deliver Brexit.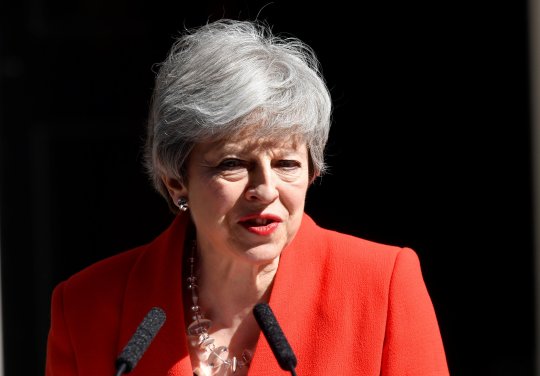 Can't say I'll be sorry to see the back of Theresa May but when you look at the future potential leaders it only looks bleaker. The leadership battle for the country will now commence on the week after June 7th. Leading contenders include Boris Johnson, Sajid Javid, Jeremy Hunt, Dominic Raab, Andrea Leadsom, Leave champion Michael Gove and newly-promoted defence chief Penny Mordaunt. Can't wait for another unelected leader to make a complete and utter hash Brexit, can you? Maybe we should just get Nigel Farage or Tommy Robinson in to do it?
Kinda wish it was the end of the whole series of the UK, rather than just the season finale as I doubt things are going to get better in the next instalment. At least fans of The Big Bang Theory and Game Of Thrones know that it can't get any worse – we don't really have that luxury unfortunately, if you can even call it that.
For more of the same, here's Theresa May dancing. Guess we'll always have that..