Theresa May's time as Prime Minister might nearly be up but by the looks of it the British public aren't about to take it any easier on her in her final weeks in office. 
Featured Image VIA
On Saturday she Tweeted out this message of support to the LGBT community, complete with #Pride hashtags and rainbow flag emojis:
I will only be your Prime Minister for a few more weeks. But I will be your ally for the rest of my life.#Pride⁠ ⁠#PrideInLondon⁠ ⁠ https://t.co/gfNHFoTn5m

— Theresa May (@theresa_may) July 6, 2019
Bad idea? You bet: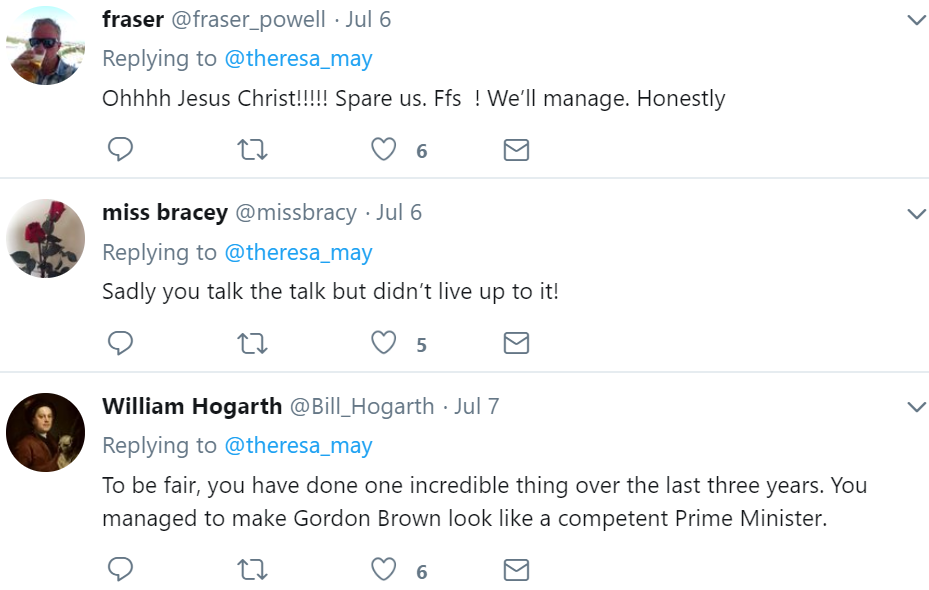 Actions speak louder than words.. 🤔 pic.twitter.com/zksPjBFatz

— Harry Maxwell (@HarryMaxwell) July 7, 2019
I would be amazed if Theresa May didn't expect this sort of response especially on Twitter but I guess she decided to make the gesture anyway. I mean there's no way she crafted this Tweet and thought 'yeah, everyone will love this', before hitting send, is there?
Damned if she does, damned if she doesn't I suppose. Although it probably would've been for the best if she didn't on this occasion.
For the best & worst of Theresa May's time as Prime Minister in pictures and videos we put together, click HERE. What a ride it's been.