If there's one action that will get a guy to act however you want then it's probably the promise of a blow job for said services, and that's exactly how Italian actress Paola Saulino sought to encourage people to vote 'no' in the recent Italian referendum.
Images VIA 
Of course, nobody actually expected her to follow through on her offer of giving everyone who voted 'no' a blow job, but it looks like she's absolutely going to come through as she's posted an official list of 'tour dates' where guys can call in the favour. The tour is starting in January and you can check out the dates below on the official tour poster.
Apparently 'pompa' means pump in Italian and is also slang for sucking dick over there: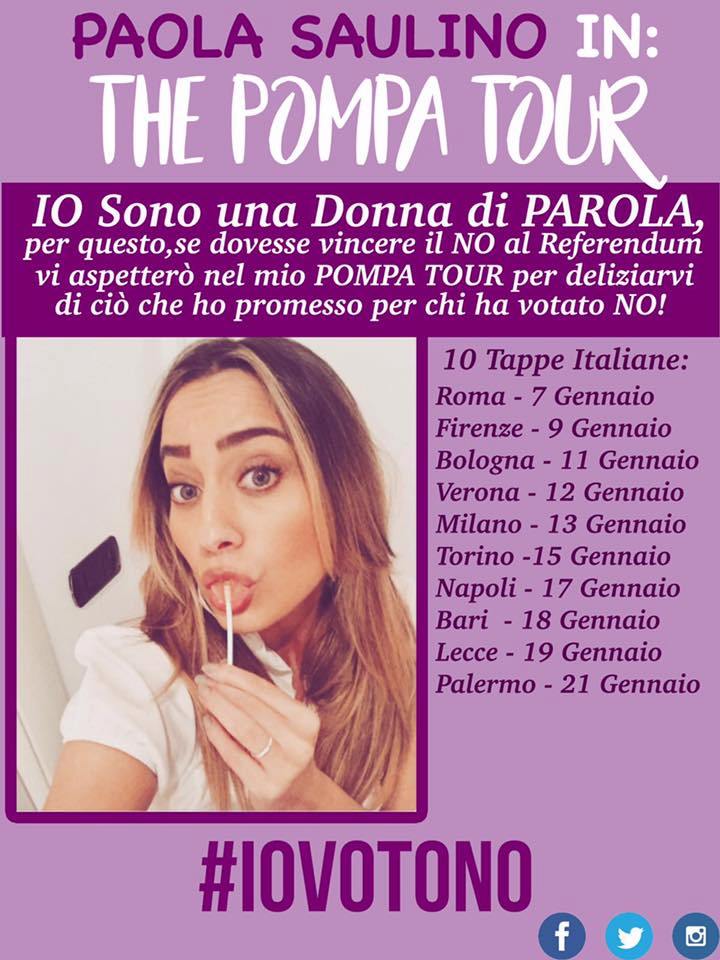 Paulo has said that she's a woman of her word which is why she's doing this, but in order to secure your position at one of the dates you can't just show up – you need to fill out a booking form and send it to her. That kinda makes me think that it might be a trick so that she just gets the details of all the sleazy guys in Italy to post on the internet and laugh at them, but at the same time you're probably not going to pass up that opportunity if you're over there and hankering for a blow job. Just saying you might wanna be careful and think twice about it before signing up, that's all.
In case you missed it, Italy did indeed vote no in the referendum regarding constitutional reform, the Prime Minister resigned and they might end up leaving the EU because of it. All because of the promise of free blow jobs. 2016 – what a year.
For more blow jobs, check out this woman getting busted giving a blow job to a guy in the street in Thailand. Dirty.