You need a bottle opener, a wine stopper or even a plug for the sink, but the shops are closed and your neighbours are out, so what do you do? You make one with your Thing-O-Matic of course!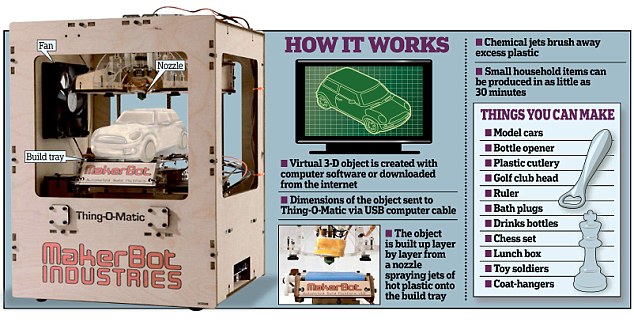 The Thing-O-Matic claims to be able to create any 3D plastic object in less than 30 minutes. The machine was unveiled at a trade fair in Las Vegas this week and has already sold over 3,000 units. The first model available is priced at £850 and is limited to creating small plastic objects but developers say future models – which are already being planned – will have the potential to combine plastic and metal to create electronic gadgets.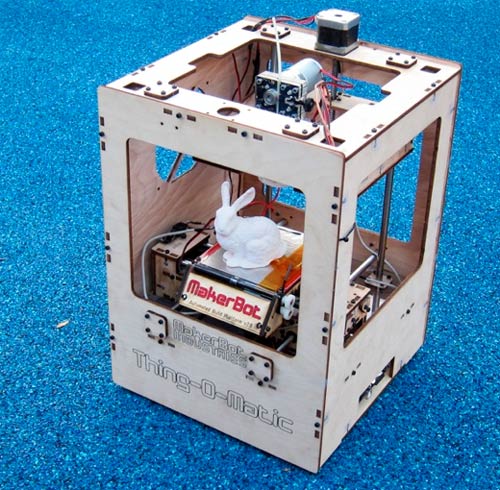 Users must first create or download a 3D blueprint on their computer, with 5,000 designs already available, and then upload it to the Thing-O-Matic via USB. Some of the designs already available include:
Chess set
Cup, plate and plastic cutlery
Recorder
Golf club head
Spectacle frames
Model cars
Model railway accessories
Referee whistles
Spare parts for robots
Helmets and masks
Shin and elbow pads
Ruler
Bath plugs
Milk bottles
Drinks bottles
Camera lens hoods
Measuring spoons
Ash tray
Lunch box
Bangles and earrings
Children's building bricks
Plastic soles
Door knobs
Bottle opener
Wine stopper
Coat hook
Action figures
Toy soldiers
Coat-hangers
Dolls
How it works is like this: it heats strands of plastic to over 200C and fires them onto a platform inside the machine, building up objects layer by layer. The machine works with three types of plastic: ABS – the hard, lightweight plastic used to make Lego bricks and recorders; high density polyethylene (HDPE) used to make watering cans, plastic bags and folding chairs, and corn-based biodegradable plastic. An example bottle opener took 30 minutes to produce at the trade fair in front of an audience.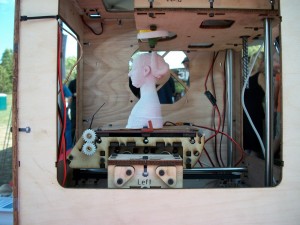 Bre Pettis, the cheif executive of New York-based Makerbot Industries – the company who produce the Thing-O-Matic – said the household factory can replace missing parts from utilities such as a dishwasher or construction set. As long as you have the measurements for the item you need, you can create it! It can even create parts for itself apparently! I'm not entirely sure how it would function in the first place with a missing part but the idea is cool.
If you're interested in buying a Thing-O-Matic then check this link! It comes as a kit and will take up to 12 hours to assemble, but Mr Pettis assures us that if you're comfortable putting together Ikea furniture, you'll be fine making this.
httpv://www.youtube.com/watch?v=wpPdooIVnUY&feature=player_embedded