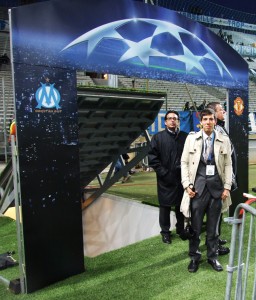 With the Champions League returning this week for the first batch of the second legs, I was given the privilege –  by another website I write for – of having an expenses paid, all-access trip to watch Marseille take on Manchester United in the opening leg of the first knockout round.
Sitting at my desk – doing my 9-5 job – on the Monday of the week of the game, I had received an email from the head honcho for my football blog. He needed someone at short notice in London to fly out to the game and report on it for them. I sent him my credentials but didn't hold out too much hope as he said several bloggers were chomping at the bit to go.
An hour later, I got a response stating that they believed I would be the best candidate and offered me the chance. I accepted, and thirty six hours later, I stood at Stansted airport, waiting to meet my contact who had put the whole event in place.
The trip was paid for Heineken – who are the competition's main sponsors – and included accomodation, flights and meals. Originally UEFA were not happy for us (I went with a couple of other footballing bloggers) to cover the game as we were in hospitality seating with no press accreditation.
I felt quite important; that a major sports governing body were trying to stop me writing about something was pretty cool. Fortunately it was agreed that while we couldn't write a formal match report, we would be able to write about the experience and tweet from the game.
Obviously I didn't expect first-class British Airways flights but being dispatched onto Ryan Air alongside several slightly tipsy Mancunians and more surcharges than a Centre Parks mini-break was a little disconcerting.
But it did help to mingle with the fans – who cheered with the airline played a triumphant fanfare over the intercom on touchdown in Marseille. It is meant to signal that the flight has arrived on time but due to Ryan Air's terrible reputation, it may as well have been celebrating that we hadn't crash landed.
As you would expect with most Ryan Air flights, the airport wasn't anywhere near the city centre – though to be fair, it was the closest airport to Marseille. A taxi journey later and we arrived as a fairly nice L'Hotel with rooms complete with widescreen TVs and balconies looking over the streets below.
A quick freshen up later and we were in another cab, this time heading to the stadium and buzzing centre of Marseille. We were handed our match tickets in a slick, glossy wallet and as I clutched my ticket, I got a twinge that the excitement was only just beginning.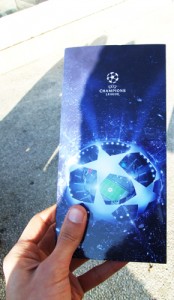 The thoroughfares were packed with fans – mainly of L'OM as away fans are strictly separated – enjoying bagguettes and crepes; try getting those at your next Premier League game. Imagine going into a cafe filled with boozed-up English fans and asking for a croissant and white wine, you'll get more than egg on your face.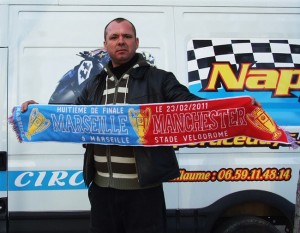 After a quick beer we headed to the stadium itself: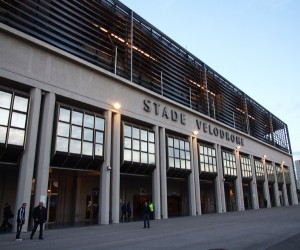 Once there, after a few security checks; we were shown round by a Marseille stadium official who showed us the TV vans: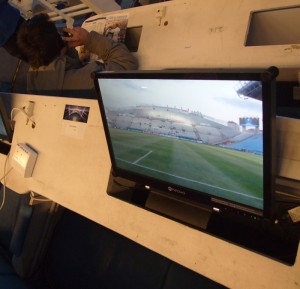 And down past the dressing rooms. We weren't able to take photos during this part of the tour as it is meant to be a hallowed, private area for the players. Plus if they were changing, you might see someone's knob which isn't allowed on camera. However here is a photo of what the dressing rooms actually look like when they're empty. Fascinating, huh?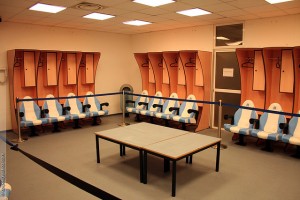 We only had a brief glimpse in here as the door was closed quite quickly by the Red Devils' kitman Albert Morgan.
We were then led down the player's tunnel by the guide behind some United youth players (didn't recognise any of them). Amusingly as they turned the corner to walk up the steps which lead you onto the pitch, they found the door was locked and they were unable to go out onto the pitch. This was reminiscent of my previous visit to France, where I became locked in a crypt under the Sacre-Couer church.
Shyly, they shuffled back past us and  towards the dressing room. We used a separate exit to go pitchside and headed for the seats where the managers, coaches and subsitutues will sit during the game: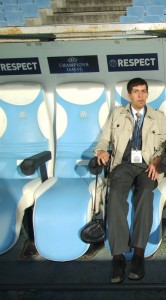 Following this, we were led to the superb Heineken hospitality area where fresh beer on draught is free along with food.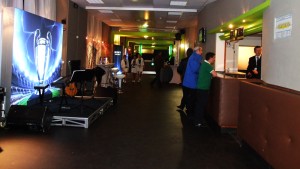 And when the French serve up snack food, you don't get pork pies and pineapples on sticks, you get pots of rissotto, baskets of fresh fruit and chocolate fountains.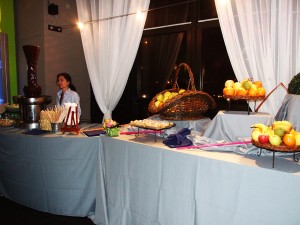 You also get live entertainment with musicians: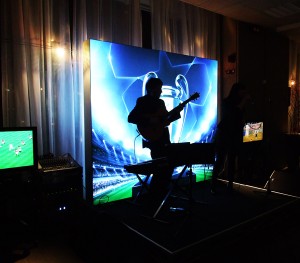 And a DJ for the afterparty: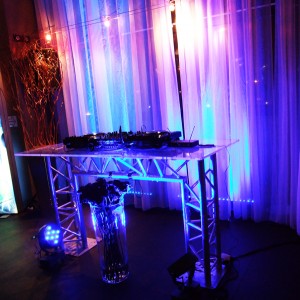 It's easy to see why Roy Keane famously called corporate fans, "The Prawn Sandwich Brigade". As great as all this was, it does make you slightly less passionate about the football as the luxury seduces you.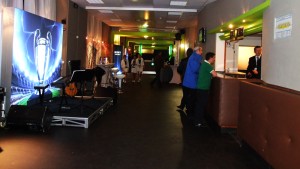 And there was no doubt about it, this was a massive game. Pre-match I was really up for it – both sides had been on great form and had plenty of attacking threat. It was time to taste the atmosphere with the final part of tour; to watch the warm-up from in front of the main stand.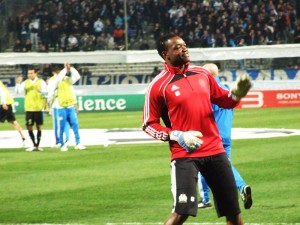 By now, it was packed with fans: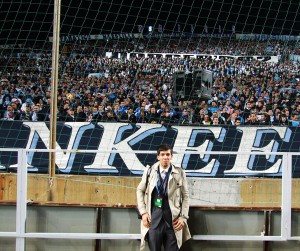 The noise from the crowd was terrific as is evidenced in the video below:
Pitchside were not just the players, various TV personelle were also there including some Brummie guy and an ex-Chelsea defender: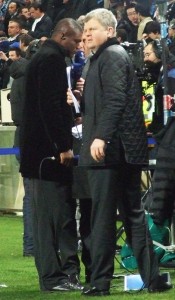 The L'OM supporters heavily booed the United players as they came off, including goalie Edwin van der Sar: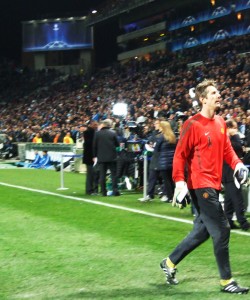 As they hurried down the tunnel for final preparations, it was time to head up to our seats.
Given that we were sitting in the not-so-cheap seats, it wasn't surprising to spot Man Utd owner Avram Glazer and disgraced television personality Angus Deayton sitting right behind us.
Obviously the game was a dire goalless affair between two sides clearly built with conservatism in mind and with attackers who couldn't quite settle into the game. However the 0-0 scoreline did have its advantages. Before the game, patrons of the hospitality area had been invited to predict the scoreline to win prizes.
Clearly an optimistic lot, only 3 people went for the no-score draw. I was drawn out of a hat and won a signed Marseille shirt; rather embarassingly the guy that had paid nothing for his whole match experience won the prize while plenty of punters who'd forked out hundreds looked on, not exactly delighted with the fact an Englishman had won their teams' shirt.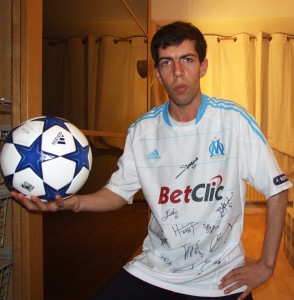 As we flew back the next day, it was time to reflect on how quick the whole thing had been; an email on Monday and within inches of Rooney the next. It felt like a dream but my shirt revealed the reality.
It's a funny old game.
(adsbygoogle = window.adsbygoogle || []).push({});