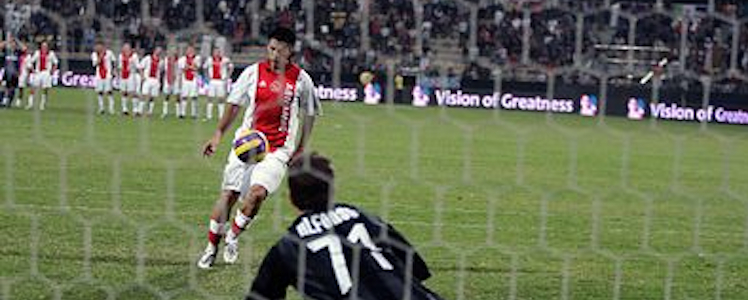 So last week I stuck up a post featuring the top 10 Panenka penalties of all time, and I mentioned how you would look like a complete dickhead if you attempted to do the Panenka penalty and screwed it up. Fortunately for Sick Chirpse, the Panenka penalty seems to be in fashion at the moment and there are a bunch of awesome misses that we can all laugh at together. Here's 5 of the best recent Panenka penalty misses:
1. Niels Lodberg (Ac Horsens VSønderjyskE)
This only happened a couple of weekends ago and is pretty great. He executes the Panenka penalty perfectly but it's a bit too high and sails over the crossbar. Whoops.
httpv://www.youtube.com/watch?v=hi2Q9XQ06bc&feature=player_embedded
2. Xavier Margairaz (Fc Zurch V Sion)
This only happened a couple of months ago too and is pretty great, but for entirely different reasons to the Niels Lodberg miss. The keeper looks like a complete sickbed because he kind of realised that Margairaz was going to do a Panenka penalty so didn't even bother diving, he just stands there and catches it. The Panenka penalty was so straight as well he didn't even need to stretch or anything, just put his hands straight up to catch it.
httpv://www.youtube.com/watch?v=w-TG0qaAYVI&feature=player_embedded
3.  Armin Hobel (WSG Wattens V FC Blauweiss Linz)
This is definitely my pick of the bunch. Not only is the Panenka penalty comically bad – the keeper dives to the side but still manages to save it because Armin Hobel hit it so slowly – but the connotations of the missed penalty are astronomical. This was the deciding kick in a relegation playoff, so it means that this guy's screwed up Panenka penalty means that his team got relegated. He must feel like such a twat. Everyone in that town is going to remember him forever because of that.
httpv://www.youtube.com/watch?v=PI2Wxbcn01w&feature=player_embedded
4. Robbert Schilder (NAC V Heereneveen)
This one is actually pretty unlucky for Robbert Schilder as the keep actually reacts pretty well to claw it out. However, it's pretty funny that Schilder tries to get the rebound but hits a really awkward shot and the keeper saves it again.
httpv://www.youtube.com/watch?v=9DJ333jh9Lw
5. Neymar (Santos V Vitoria)
This one is pretty high profile because everyone is talking about Brazilian wondered Neymar. It's pretty funny because he celebrates really hard when he wins the penalty. He was doing some pretty sick skills to be fair though. Anyway, it's just straight down the middle and the keeper saves it pretty easily. Neymar's reaction is pretty great though too.
httpv://www.youtube.com/watch?v=nX9UEwcvEfs&feature=player_embedded
Follow timw_brap on twitter @timw_brap
Follow Sick Chirpse on twitter @sickchirpse