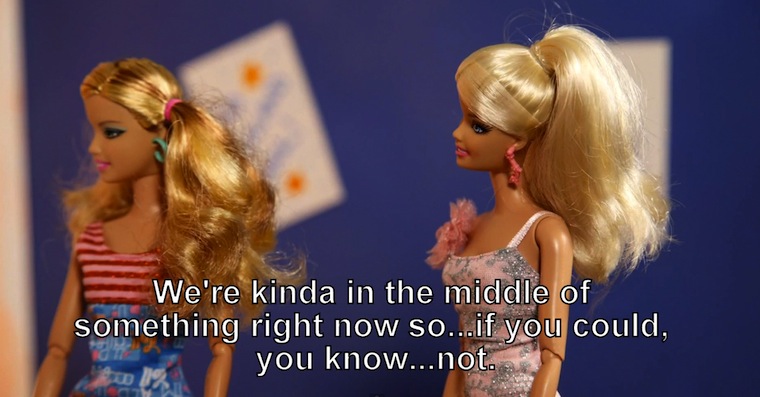 On one of the many days I spent scrolling through Tumblr, unblinking, unmoving, probably scientifically dead, I came across this fabulous animation. A culmination of elements from Mean Girls, Heathers and the depths of my uterus comes these short stop motion films about outrageously whoreish school girls. We see foul mouthed Barbie type fashion dolls interacting day to day with pretty much the exact problems experienced by middle class crack addicted prostitutes.
The first episode sees the new girl Deandra entering the girl's toilets to be confronted by the 'popular girls'. After a tirade of screaming 'WHO THE FUCK ARE YOU', the new girl announces she needs a dump and then loudly takes one. There are moments reminiscent of Trey Parker and Matt Stone's comedic taste, which just add to the magnificence of it all. The main storyline is about the ongoing feud between 'the cheerleaders' and 'Van Burens' as they spend most of their time sabotaging each others lives; from laxatives to removing limbs.
☛ Check This Out Next: Top Ten Completely Pointless Websites
Let me ask you, is there anything better than Barbie dolls sitting on the toilet screaming 'OHMAGAWD I FEEL LIKE I'M HAVING AN ABORTION'? Yes there is: a toy football coach wanking over his toy players in the locker room. God damn toys, man. It's nice to see that the animation improves as the episodes go on, as do the voices and poop jokes.
It's created by geniuses Mark Cope and Carlo Moss, who also voice some of the characters, and are now creating Season 2. Check it out below.
[yframe url='http://www.youtube.com/watch?v=-STtD96doeo']

☛ Watch This: Video Animation Effects That Will Blow Your Mind
☛ Read This: Napoleon Dynamite Like You've Never Seen Him Before