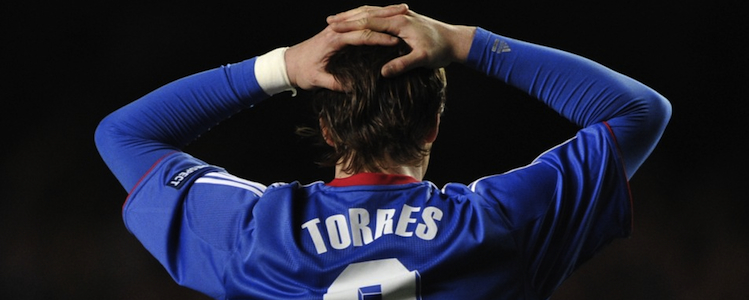 Things were finally looking up for Fernando Torres: he scored a cheeky chip at the start of the second half while delivering his best performance in a Chelsea shirt – against the imperious Manchester United, no less.
But such is the brutal beauty and unpredictability of football, he then went and missed an open goal with the match at 3-1; ensuring that goal and all-round performance will be forgotten in the minds of many.
Already, it is being branded as the "miss of the century". As we are only eleven years into the century, why not up the stakes a little and call it the miss of the millennium? Oh wait, somebody already did…
httpv://www.youtube.com/watch?v=alZuv8l7JN8
Once Torres skillfully rounded De Gea, the goal was at his complete mercy. We waited for the net to bulge, and for Torres and his team-mates to wheel away in celebration as they were back in the game.
But, in this universe at least, that didn't happen. Instead, the £50m man, who had only one goal in 23 appearances for Chelsea prior to Sunday, ruined the chance of an exciting final ten minutes for all of us by completely fvcking up his finish. Like a wounded animal, he was now the merciful one; as millions across the globe laughed their arse off, rolled on the floor laughing or, for the Chelsea fans reading, fucked their lives. (Yeah, so that last one didn't really work…)
Torres can probably thank Ronnie Rosenthal for it being labelled the miss of the century, rather than 'of all-time'; with the Israeli's perennially considered the worst miss ever. There are definite similarities between the two misses: both expertly rounded the keeper, and both used their left foot. And, of course, both missed – but at least Rosenthal hit the bloody bar!
httpv://www.youtube.com/watch?v=kiVq5-u7MH0
One man that did also inexplicably miss the target is Ryan Giggs. Due to him scoring a sickeningly good goal against Arsenal in the FA Cup semi-final in 1999, his terrible miss against Arsenal in the same competition four years later is often forgotten. Again, like Torres and Rosenthal, he rounded the keeper with no problems, but then went on to miss an open goal with his wrong foot. The scoreline at that moment was 0-0 – Arsenal went on to win the match 2-0. Check it out below:
httpv://www.youtube.com/watch?v=g79O4rpMTFo
Still, we reckon "Giggsy" more than made up for it by more recently hitting the target, instead, with Imogen Thomas. There you go, Fernando, chirpse a celebrity hottie and all will be forgotten. Or just start scoring again. (In the football goal, you dirty bastards.)
Another terrible miss by a high-profile player occurred on the grandest stage of them all: last summer's World Cup. Nigeria needed to beat South Korea to reach the Second Round; with the score 2-1 in the Asian nation's favour, this happened:
httpv://www.youtube.com/watch?v=2jEKlaetuMI
He did gain some form of redemption by scoring a penalty shortly after to bring the game level; but had he have converted that open goal, rather than fluffing it wide, who knows how far Nigeria might have gone in the tournament? Instead, they were on the next flight home.
In truth, despite all of the above being crazily bad for players on equally crazy wages, surely none are the worst misses in history: see our very own timw_brap's article on the worst misses of last season for evidence, with number two on his list easily ranking as the worst I've ever seen.
But, with respect (or not), no one really cares about Asian football, do they? Its Torres' reputation and current form (or lack thereof), strengthened by the miss coming at a crucial time in a match between England's two most successful clubs in recent years, that will ensure it lives on forever alongside the likes of Rosenthal and Yakubu.
httpv://www.youtube.com/watch?v=KT5xNOUzcJk&feature=player_embedded
"Shovel, and spade, and dig." You wish, El Nino.