According to an anonymous Facebook whistle-blower, volunteers in the infamous Calais migrant camp have been accused of having sex with migrants, some believed to be underage.
Featured Image VIA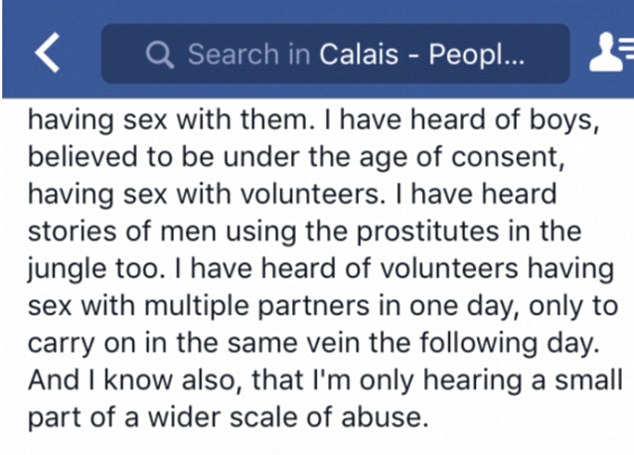 One whistle-blower, whose comments were later deleted from the People to People Solidarity group on FB, describes underage boys having sex with volunteers as well as men using prostitutes in the camp. They then go on to claim: "I have heard of volunteers having sex with multiple partners in one day, only to carry on in the same vein the following day."
While it might all sound like a total fucking mess, accusations that some volunteers are offering aid as a pretence to abuse people who've risked everything to get to a makeshift shitty shanty town in Calais should be taken seriously. Whether some sexual transactions between adults are consensual or not, there's an obvious imbalance of power between a British aid worker and someone who has no money, no home and no legal rights.

As one commentator explains, there are growing concerns that some camp workers are censoring what's happening in the camp in order to save face.
Claims that minors have been sexually abused are comparable to the exploitation that was once rife within the Catholic Church and Children's homes in the UK in the way that those who do not have a public voice are the most vulnerable. However, although historic abuses have since been exposed and scrutinised, instead of causing a shitstorm, the accusations regarding the behaviour of some Calais volunteers were deleted off Facebook just as swiftly as any news from warzones outside of Europe is forgotten.

One commentator, who compares the camp to a free-for-all, suggests to volunteers: "if you're incapable of 'keeping it in your pants' then consider whether you ought to be there." Unfortunately, perhaps for some of the volunteers in question, the thing in their pants is their main motivation for being there in the first place.
The issue that allows creeps to creep in such places, largely lies in the fact that the French government refuses to legalise the camp. Care4Calais, the charity helping migrants in the Calais migrant camp, have a 'zero tolerance' policy concerning sexual relations between their volunteers and camp inhabitants. Yet, as Clare Mosely, founder of Care4Calais, recently pointed out to The independent, it's not easy to enforce such rules. "At the end of the day it isn't recognised as an official refugee camp, it's an illegal settlement. So we've got no way of forcing anyone to leave. That is the difficulty."
Of course, we shouldn't use these claims to demonise the majority of volunteers helping migrants in Calais. How many of us who write pissy Facebook posts or whinging articles like this one can say we've got off our arses and done anything proactive about Europe's migrant crisis? Instead, it's about time we stopped censoring the whistle-blowers and allowing European governments to turn a blind eye to needs and human rights of those in migrant camps.
To check out the dark, bleak conditions of a notorious Russian prison click HERE.