We're big fans of new and innovative ways to eat your breakfast here at Sick Chirpse, and the guys from Epic Meal Time have come up with an absolute game changer here with what they're terming the Jenga breakfast for obvious reasons.
It's fairly easy to make and all you need are some thick cut chips – kinda weird for breakfast but you know still good – some bacon, some American cheese and you top it off with an egg. I'm not sure if you're actually supposed to try and play Jenga with it before you eat it, but I would rather just tuck right in because it looks so delicious. Here's the recipe:
Images VIA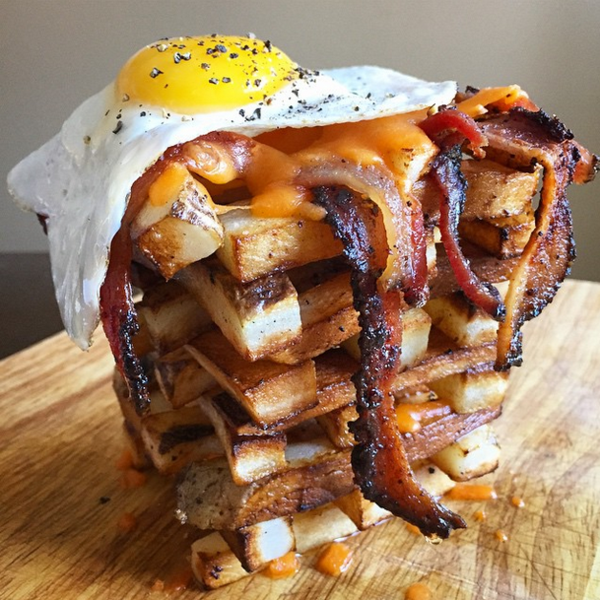 Take 6 large potatoes, such as Maris Piper or King Edward
Heat oven to 200°C/fan 180°C
Cut the unpeeled potatoes into thick chips, keeping them the same size and thickness
Put into a large pot of salted cold water and bring to the boil
Drain, tip onto kitchen paper and dry thoroughly
Put in a bowl and coat in 2-3 tbsp sunflower oil
Pop on baking tray and bake for 20-30 mins, shaking every now and then till golden
As simple as that. Maybe a bit too much effort when you really want your breakfast, but probably worth it in the end. If not just go down to your local restaurant and try a bacon doughnut, we're sure you'll enjoy them just as much.