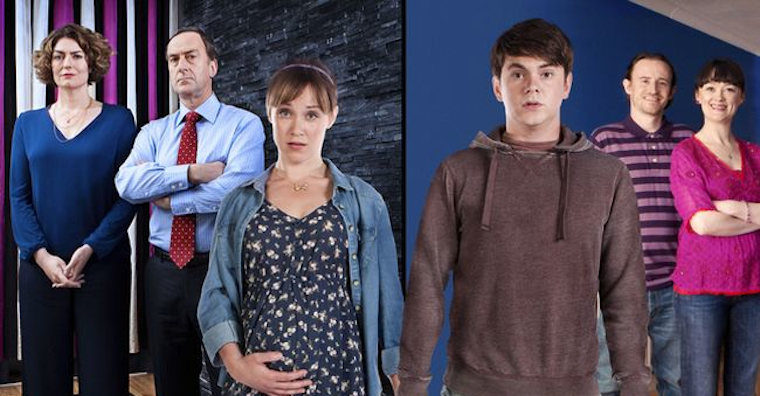 BBC Three hasn't had the best of times of late with its hit and miss programming mainly about teen sex, foreigners, men who drive vans, gypsy pirates and vicious dwarves etc. Occasionally we get stuff like 'the Mighty Boosh' and 'Gavin and Stacey' which make it to BBC One. So big pressure for 'Pramface' which started this week. Will it be another 'Growing Pains' or can it make it with the big boys.
So what's all about then?Well, a 16 year old boy has sex with a drunken 18 year old girl and they make a baby.  Not very original? You might have seen or heard of something like this before, if you don't get chance to watch 'Pramface' then head down to the White Rose Centre where you can see people in a similar situation walking around in their track suits feeding their offspring 'Greggs' outside Primark. This show is isn't like that, sadly.
Is it funny? I suppose so, what isn't funny about teen pregnancy?! It has the usual sympathetic characters we can all relate to and a funny situation, I mean who cant relate to sexually frustrated teenagers? The elderly? The two main male characters Jamie, the one who does the deed and his mate Mike are pretty much the main characters from 'The Inbetweeners'. Jamie is a mix of Will and Simon and Mike is mix between Neil and Jay. You'll know what I mean when you watch it. There is plenty of banter between them that's entertaining and teenage wank jokes and wanking situations. Mike gets caught by his mum rubbing one out to the 'Top Gear' theme which was a particular highlight.
Laura, the 18 year old who gets knocked up is a strong female character. She's a posh spoilt brat with over very professional parents, shes got a drinking problem and is desperate for social acceptance. For her, getting pregnant to a pathetic 16 year old boy is the worst thing ever. Hopefully in the coming weeks we see more comedy from the nightmare situation the characters have been placed in, hopefully it's not too predictable.
Should you watch it? Yes. I wanted this show not to be funny just so I didn't have to say I enjoyed watching something on BBC Three but I did. It appealed to the sexually frustrated teenager that died inside me along time ago and has now become an emotionally damaged twenty something. It's funny enough to appeal to wide enough audience. You could watch it with the lads or with the missus but probably not your mum. If I have learnt one harsh lesson in life it's that mum's don't appreciate wanking jokes. One for the iplayer or you could go down to your local shopping centre.
In a nut shell? It's 'Inbetweeners' meets the film Knocked Up' to a certain extent.