It's been a hot minute since we've heard from Tekashi 6ix9ine, but his return is obviously true to form as he's decided to mock a rival rapper just hours after his brother was shot and killed.
Featured Image VIA 
Lil Durk's sibling – 32 year old Dontay Banks Jr AKA OTF DThang – was found deceased on the 7900 block of S. Loomis Blvd. in Chicago at the weekend after being shot in the head outside a Chicago club. You might think that Tekashi 6ix9ine would stop being a prick for one minute considering that someone's close family member had been murdered, but instead he decided to post out the following Instagram stories mocking Lil Durk: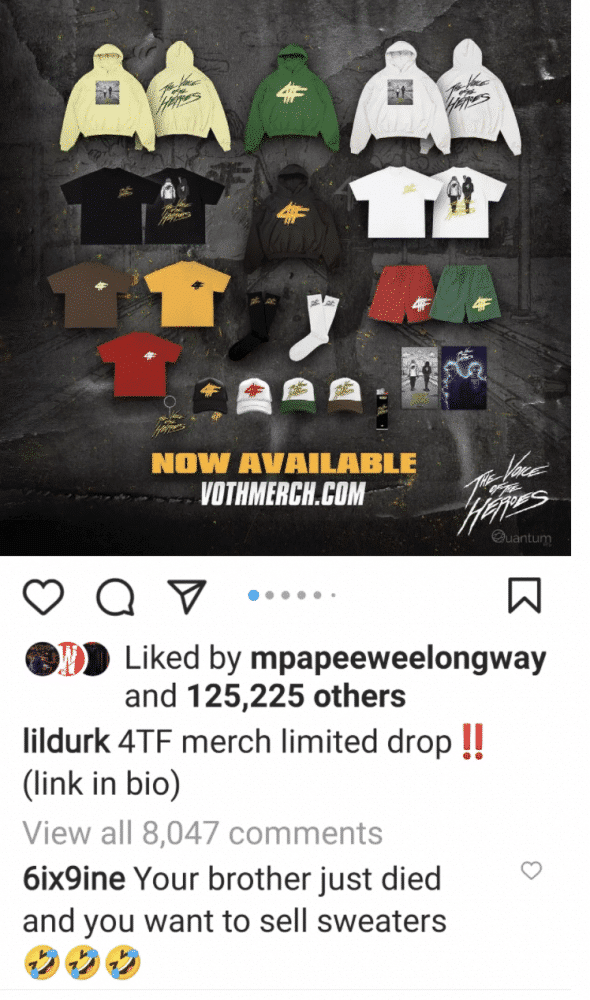 Ooof. That's not exactly that bad considering that Tekashi danced on the grave of Chicago rapper King Von after he died seven months ago, but you've gotta bear in mind that that's literally one of the worst reactions to someone's death that has ever been recorded, so anything else is going to be a step down.
This kind of behaviour is still completely unacceptable.Even if Tekashi is beefing with all these guys for some reason, there's absolutely no need for him to be such a jerk after somebody has died FFS. That's kinda where you draw the line for me, but I suppose you have to give it to the guy for sticking with his persona of being an absolute lowlife. Respect for the game.
For more of the same, check out when Lil Nas X exposed Tekashi 6ix9ine for being gay. That was a wild trip.