Tekashi 6ix9ine and Jake Paul are two of the main idiots out there that the internet is responsible for elevating to heights of absolute global superstardom for reasons I can't comprehend, so it makes sense that they would eventually start beefing with each other.
Featured Image VIA
Jake Paul recently did a Q and A with the fans and one asked him whether he would ever get into a boxing match with Tekashi with Paul saying the following:

It wasn't long until Tekashi caught wind of what Jake Paul was spouting off about and decided to reply himself: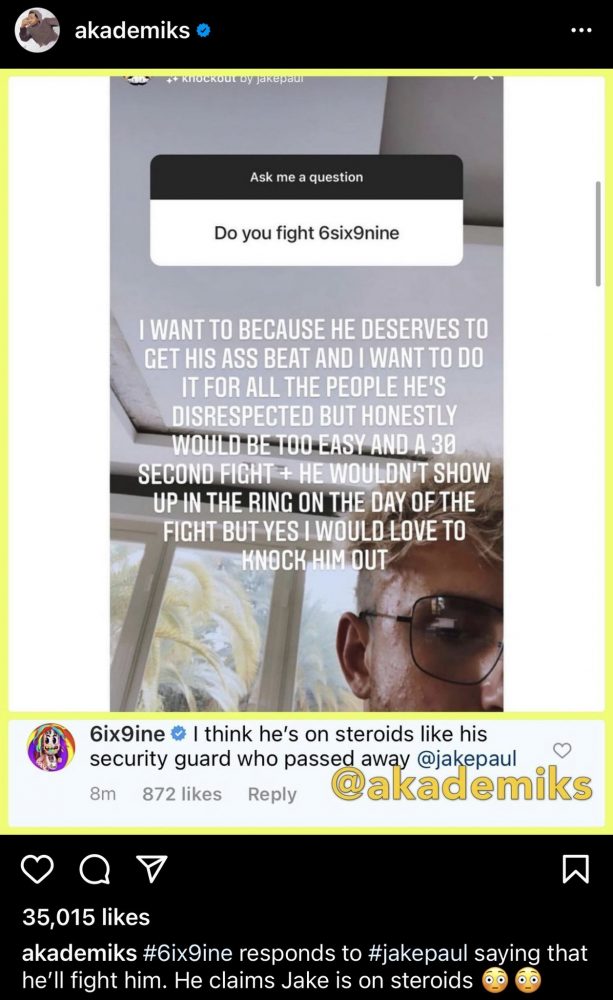 Oh my goodness! Two complete idiots trash talking each other on the internet – could it possibly lead to a boxing match between the two of them?
Stranger things have honestly happened but Tekashi is a little snitch and doesn't look that jacked so I think it would be absolutely stupid if he stepped into the ring with Paul. Doesn't really fit his modus operandi, but again you never know in the internet game do you? Watch this space.
For more of the same, check out Jake Paul stealing Floyd Mayweather's cap. That was really funny to be fair.