A teenager was allegedly branded "busty" by her teacher before being kicked out of class for wearing a top that "didn't cover her cleavage properly".
Images VIA
Kelsey Anderson's mum Melissa Barber is now fighting back at the staff member who said that her red blouse violated the school dress code. When you see the shirt, you'll understand why the mum is kicking off: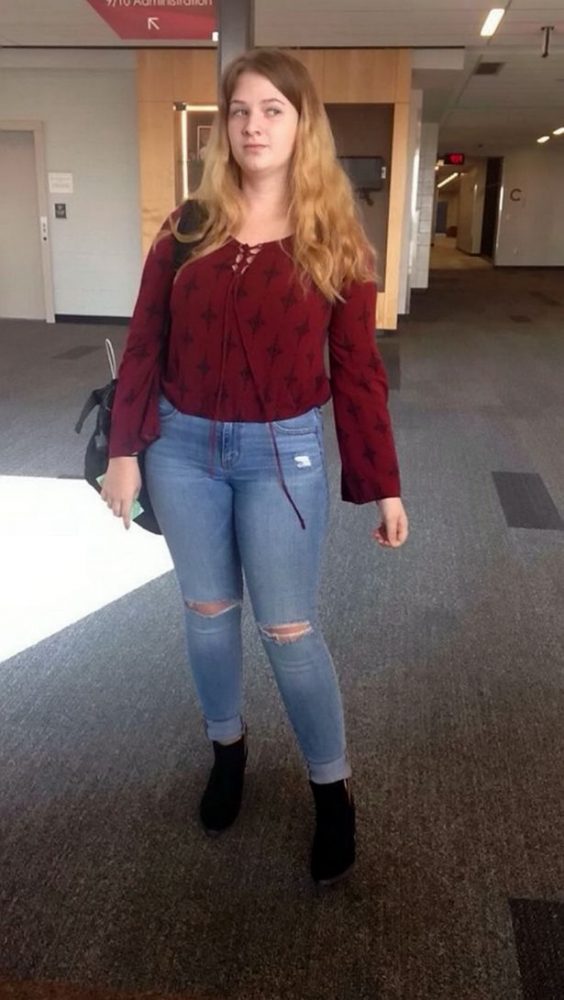 I'm sorry, but I don't see a hint of cleavage there, do you? And if that weren't enough to spark a kick off, the 17-year-old was also reportedly called "plus size" in front of her classmates and told that she should "try harder" because she has "bigger boobs than most girls". Unbelievable. No surprisingly, Kelsey was left mortified by the whole experience.
Kelsey's mum shared a picture of the outfit on Facebook with the caption:
This is the shirt that just got my 17 year old dress coded.

The teacher said, 'Your boobs are bigger than most girls, and you are gonna have to try harder'. She really needs to not speak to my daughter like that.

What is wrong with the way this child is dressed????
Apparently when Melissa went to the headmaster to request that her daughter be moved to a different class, they refused. However, since the story has gone viral the school has launched an investigation into the matter like they always do. A spokeswoman for the Joplin School District, which serves 7,395 pupils in Missouri, said:
The District does not consider comments by staff members about students' bodies appropriate.

Our staff conduct policy requires all staff members to maintain courteous and professional relationships with students.

This incident is being investigated by the administration to determine if this policy has been violated.
They don't consider commenting on an underage student's boobs to be inappropriate? This is 2017 guys, you can't be getting away with that. Also, how exactly do they want Kelsey to be dressing? If she covered up any more she'd be in a nun's outfit. I reckon the teachers at that school would have an aneurism if they saw what kids looked like back in my day.
For more of the same, check out this lady who was savagely kicked off of a plane for the amount of cleavage she had on show.