Taylor Swift has just ditched Calvin Harris after he was photographed coming out of a Thai massage parlour in Hollywood famed for its happy endings. Seriously man, you're dating the biggest superstar on the planet and you're going for happy endings on Sunset in Hollywood in broad daylight? Act like you're a famous celebrity one time.
Featured Image VIA
From RadarOnline:
"When the photos got posted on RadarOnline, Taylor said to him, 'What the f**k?!" the insider said. But rather than come clean about what really happened, the insider claimed, "He lied to her. He gave some bullish*t excuse that his masseuse was sick and he needed his shoulder worked on. That wasn't good enough for Swift, 25, who gave him the boot for good "about a week ago," according to the source.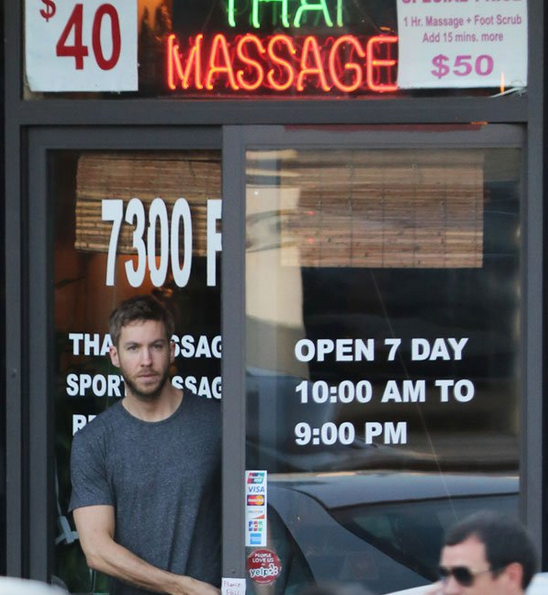 Image VIA
The thing is though… what if Calvin Harris isn't bullshitting? What if his masseuse really was sick and he needed his shoulder worked on by some $40 an hour Thai girl in a seedy massage parlour? After all that would explain why he was dumb enough to go there in the first place; he didn't actually think he was doing anything wrong.
Even if that were true though, no chance anyone's going to believe it. Sorry Calvin – you messed up big time mate. Embarrassed your girlfriend even harder than when she thought she'd won that Grammy... but hadn't.