Summer is upon us, which means a bunch of pale-arses will be hitting the salons to give themselves a nice base tan before they hit the beaches and parks and whatnot. If that's you, just make sure you ask the tan shop employee to check the sun bed to make sure it's clean and, um, doesn't have a DEAD BODY laying on it.
Featured Image VIA
That was the gruesome discovery made at a salon in Deutsch Kaltenbrunn, a town in Burgenland, Austria this week, when a customer found a 50-year-old woman's corpse on a sun bed after she had a two-hour session.
As per MailOnline, the customer had suspected something was wrong after noticing that the first cabin was occupied but there was no noise coming from it.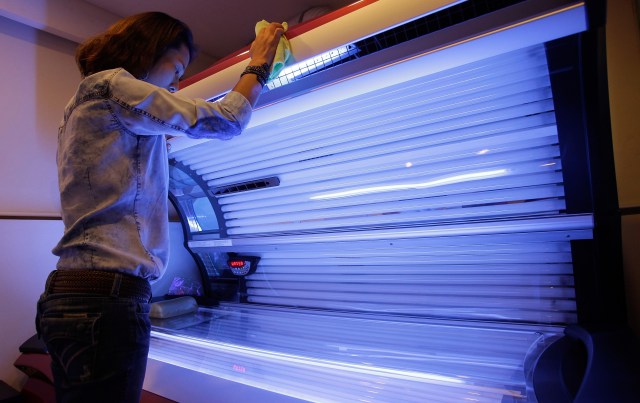 After calling to the woman, the customer opened the cabin door to find the body. Emergency services were called to the scene but there was nothing they could do.
During the autopsy, investigators found no evidence of foul play and the woman's body showed no sign of injury. So what happened exactly? Well, the toxicology reports aren't out yet but you have to think this woman had a heart attack or something.
Despite the way the story is being reported, I'm not sure I can believe the woman actually spent two hours in a sun bed whilst it was on, but rather that it was two hours before her body was found. Which is gross because you'd think an employee would go in there after every session to make sure everything was clean and sanitary and corpse-free, rather than have a customer discover it and be traumatised for life.
Anyway, just another reason to stay away from tanning salons I suppose. Amazing they're still even a thing. RIP to this lady and thoughts with the poor soul who found her crispy body.
For the 22-year-old sun bed addict who is so dark she 'gets mistaken for a black girl, click HERE. Disaster waiting to happen.