Back in February 2019, the Forsyth County Sheriff's office in Georgia, US, announced they had closed their investigation into the death of 40-year-old Tamla Horsford, a black woman who was found dead after she attended a house party/sleepover with friends in November 2018.
Featured Image VIA
In an interview with WSB-TV at the time, Tamla's friend Michelle Graves said she believed the 40-year-old mother-of-five was the victim of a murder and not an accident:
With the death of George Floyd and Black Lives Matter protests gaining momentum around the world, #TamlaHorsford got trending on social media and there well calls to reopen the case and find out what really happened what night.
Here's a post that went up on Instagram pointing out some of the suspicious circumstances: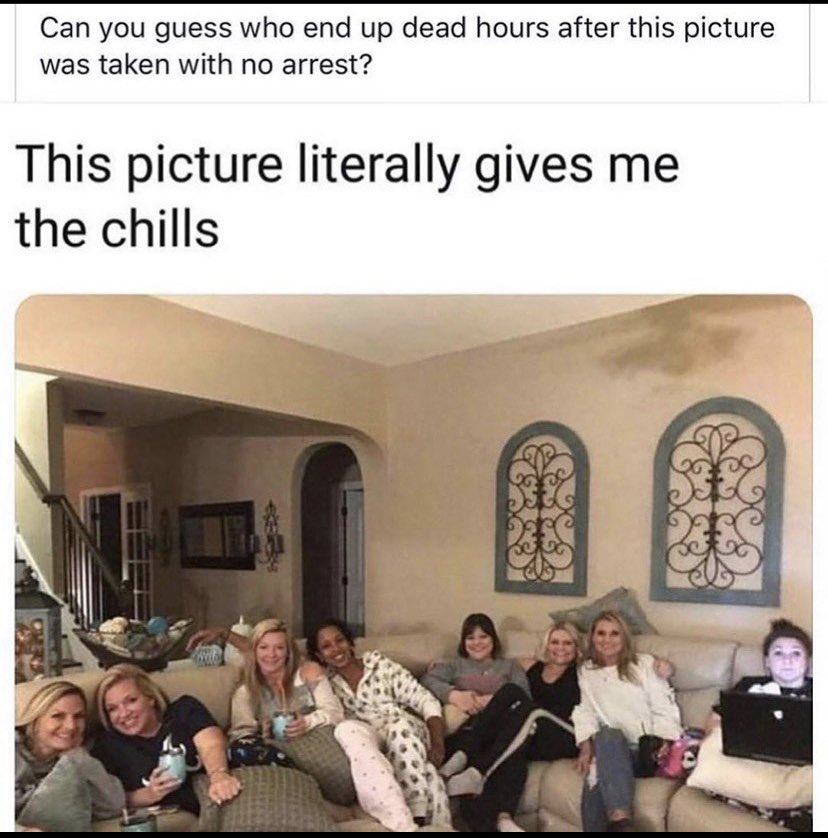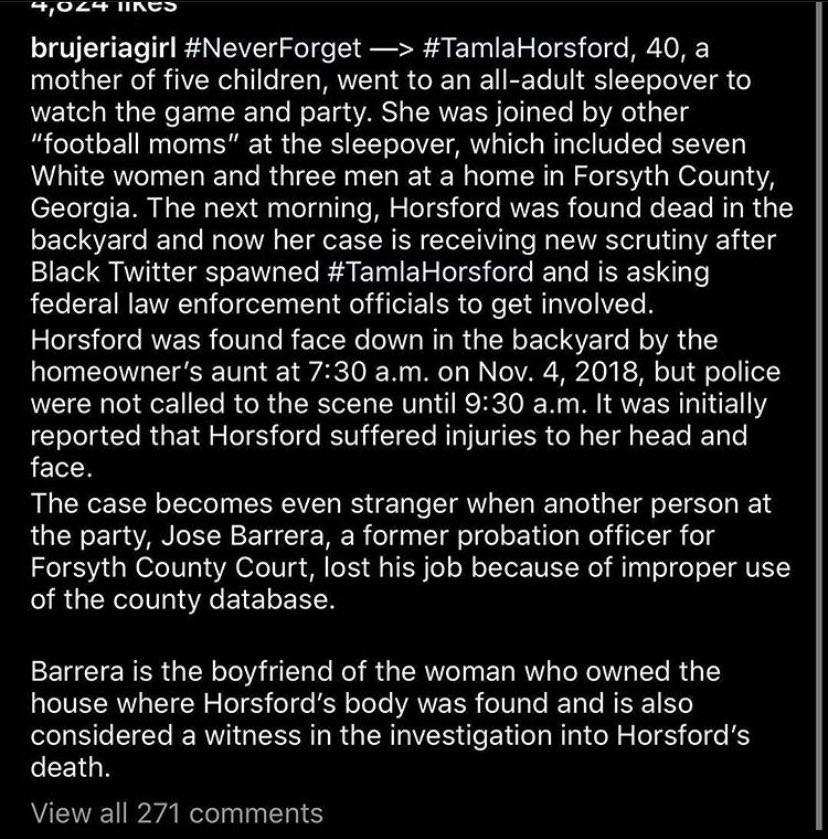 Sounds pretty dodgy right?
Well fact-checking website Snopes jumped all over the story and obtained the entire case file relating to the investigation into Tamla's death, including statements of all ten attendees at the party, transcripts of interviews with the attendees, the Georgia Bureau of Investigation's autopsy report, police incident reports, cell phone footage of the night in question, and photographs of the scene.
You can read the findings in full HERE, but on the whole the evidence adds up to a tragic accident. By all accounts these 'football moms', including Tamla, were friends who were laughing, drinking and smoking weed all night. Cell phone videos included in the case file showed Tamla and other guests sitting on couches playing "Cards Against Humanity" and laughing a lot. Photos from the party showed Tamla, dressed in a white pajama onesie, smiling at the centre of the group of women.
As the evening wound down, some of the women went home or were picked up, while others went to bed in various rooms of host Jeanne Meyers's house. Tamla had planned to stay overnight and sleep in Jeanne's son's room. Shortly before 2AM another attendee named Bridget was picked up by her husband and told police that Tamla saw her off and was the last one awake in the house.
The next morning, one of the guests got up at around 8.45 AM and went to make coffee when she saw a disturbing sight from the basement window, as she told police:
I was just staring out the window and I saw those dalmatian pajamas … So I didn't start the coffee. I got on my knees and said a prayer and then I ran upstairs.
She woke up Jeanne and Jose, who came outside and found Tamla lying face down in the garden. It appeared that she had fallen from the balcony. They called 911 and asked for an ambulance – here's part of the transcript of the call:
Jeanne: We had people over last night, we were drinking, most of us went to bed, one of them stayed on the balcony. She was drinking. And we just went outside and she's laying face down in the back yard. It looks like maybe — I'm guessing she fell off the balcony? But she's stiff.
Dispatcher: OK, is she breathing?
Jeanne: I don't know but she's face down …
(At this point Jeanne becomes distressed and passes the phone to Jose)
Jose: She is not moving one bit, she is not breathing … She's completely face down in the yard. She is stiff.
The lead investigator on the case, Detective Michael Christian, described the scene as he discovered it:
Tamla was located in the back yard in a prone position. She was laying with her head away from the residence and her feet toward the residence. Her left arm was at an approximately 40 degree angle from her body and the forearm and hand were bent further toward her head in the approximately 10 o`clock position.

Her right arm was straight and by her side with the hand approximately six inches from the leg. Her legs were straight behind her with both feet pointing to the right. Tamla was clad in a one piece pajama outfit consisting of a white fleece hooded outfit with dog paw prints on it and a set of ears affixed to the hood …

Tamla's body was sketched and measured. Additionally the height of the main level porch was noted as well as the height of the rail … With the permission of Deputy Coroner Bowen, Tamla was turned over. Most notable when Tamla was turned over was the fact she had come to rest face down. Her head had not been canted to one side or the other.

Tamla's right wrist was fractured or dislocated. There was a large bump where her wrist met her hand as well as a cut over the bump as if the bone had cut the skin from the inside. There were matching defects on both of Tamla's shins. These corresponded with a piece of metal landscape edging which stood up approximately one inch from the surrounding ground. Other than the broken wrist and cuts on her shins, no obvious signs of injury presented themselves.
So what about the claims that police were not called to the property until 2 hours after the body was found? Not true, according to Snopes:
Some observers have said it is suspicious that Horsford's body was discovered at 7:30 AM, but police were not called until 9 AM. However, that premise is incorrect, and Cpl. Sexton even made a point of emphasizing that in a 19 February memo, writing that "Detectives have confirmed that the initial 911 call for assistance [at 8:59 AM] was made within minutes of the initial discovery of the deceased."
What about the fact the homeowner's boyfriend, who was also at the party, accessed confidential information relating to the case?
The role of Jeanne's boyfriend Jose has also come under scrutiny. Until December 2018, he was a probation officer for Forsyth County, and he used his position to access confidential files relating to the investigation into Horsford's death. This fact was cited by some of Horsford's friends and family as suspicious or suggestive of a cover-up.

Jose's actions may have been distasteful or inappropriate (and he lost his job over them), but they could easily be attributable to no more than morbid curiosity about an investigation into the death of a woman who died in his girlfriend's backyard rather than an elaborate criminal conspiracy to cover up a murder.
On claims that Tamla's injuries were not consistent with that of a fall:
Some of Horsford's friends and family have claimed that the injuries she suffered were not consistent with a fall. This claim is directly and comprehensively contradicted by the results of the state of Georgia Medical Examiner's autopsy. Horsford's father Kurtland St Jour, and her friend Michelle Graves, have both alluded to an independent autopsy commissioned by the family, but no report of that autopsy been published as of 27 February 2019.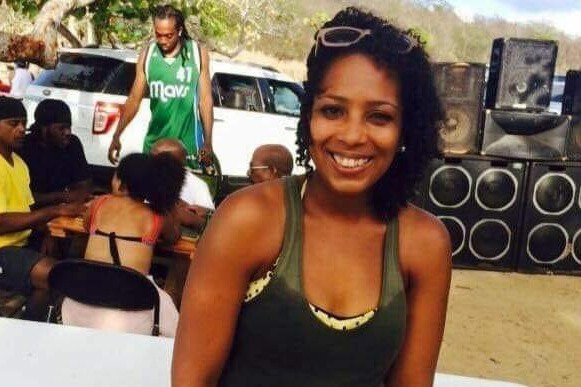 Sounds like Tamla went out on the back deck in the early hours of the morning to have a smoke or get some fresh air, tripped and fell 10 to 15 feet from the deck to the ground, and suffered what proved to be fatal injuries to her head and neck.
Jeanne's home security system suggests the same: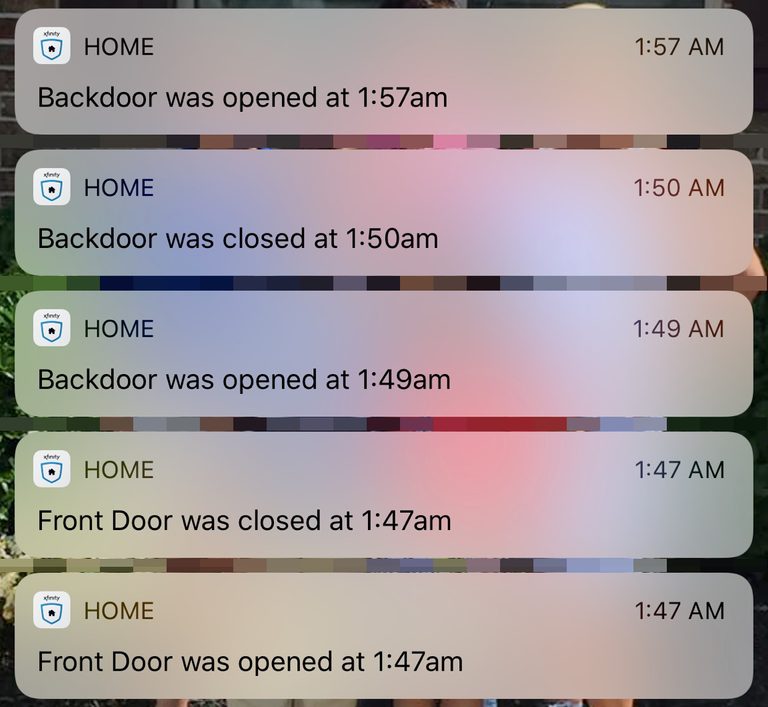 Of course anything is possible, and there's always a chance this is some kind of elaborate cover-up, but if you look at all the evidence objectively, that's unlikely. I doubt the case will be reopened unless there's some groundbreaking new evidence brought to light, but I can understand why people have brought the story up again considering how high tensions are running and how desperate people are to right cases of racial injustice. It just doesn't seem like this is one of them.
For the video of a UK police officer telling a driver "I stopped you because, no offence, you are a black male", click HERE.