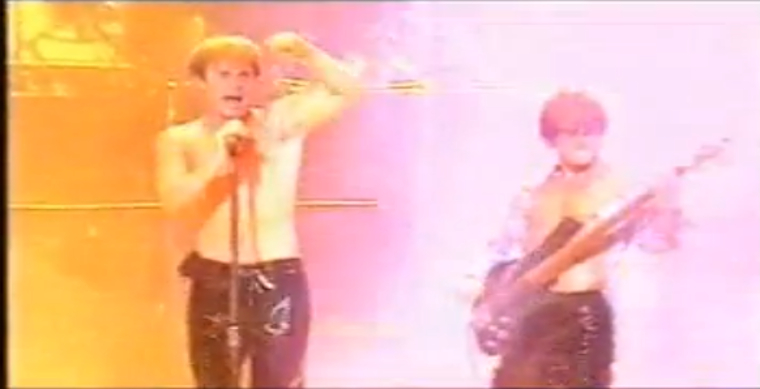 This is a really, really old clip but I've kinda wanted to put it on Sick Chirpse for a while because it's so funny but I thought I might just get trolled by people for posting old videos/news because people LOVE to do that so held back. But it actually really makes sense to stick it up today considering the Paul McCartney/Nirvana thing as it does make a viable case for G. Barlow replacing Kurt rather than P. Mac. and I only saw it for the first time about six months ago so it's fair to say a lot of people might not have any clue that it even exists. Basically, back in the day during one of their sold out concerts in front of a bunch of screaming girls, Take That thought it would be a good idea to perform a cover of Nirvana's 'Smells Like Teen Spirt.' The only thing was this wasn't a regular kind of Take That cover. No, they were going to play their own instruments on this one and prove that they were actually musicians and not just a boyband.
To say the results are catastrophic and an embarrassment would be an understatement. The concert kind of reminds me of a 13 year old band playing at a school talent concert. Only much much worse. All three of the 'band' are awful but special mention must go to Jason Orange on guitar who is just completely terrible and makes loads of mistakes and doesn't even use a distortion pedal so it sounds horrible throughout the song. He completely and utterly murders the solo towards the end, although if we're being honest he completely murders the entire song. A four year old who had been playing guitar for a month could probably play it better. The best part is probably at the start though where he's getting so into it that he keeps playing the riff when it goes into the quiet part and then just stops playing when he realises what he's doing and looks real awkward. Really smooth there Jase. He also screws up the ending fairly noticeably too. But man that solo, gross.
Howard hits the drums so quietly that they lose all of their impact and that's what really makes this cover so weak (JK it's everyone out of Take That's contribution) as they're arguably the best part of the original Nirvana song as they just smack you in the face and make you want to get up and party. Or at least listen to the song on LOUD or something. This version just makes me want to smack myself in the face out cold so I don't have to listen to it. Mark Owen on bass is another joke. Not only does he play the entire song on the E string because he can't switch strings (I guess that kinda stuff is hard for beginners so fair) but he also does a really (un) cool part where he plays bass on his knees and rocks out really hard. Obviously been watching some AC/DC shows in preparation for this or something. The look of concentration on all three members' faces are pretty priceless too considering how shit all three of them are at their respective instruments.
Gary Barlow proves that he is at least a better option than Paul McCartney to replace Kurt Cobain in a Nirvana tribute band though by trying really hard to sound like him and failing really badly. But he does manage to get the crowd really pumped up by ripping his shirt off. I don't really know the lyrics to Smells Like Teen Spirit either because of the way Kurt sings it but I'm pretty sure he gets a lot of them wrong too, I mean Kurt definitely wasn't singing 'When the night comes, it's less dangerous' was he? His fist pumps and ass wiggling is pretty embarrassing too. Given how G. Barlow has reinvented himself on X Factor it seems hard to believe that this actually happened in real life, but yeah it did. And at Earl's fvcking Court nonetheless. Crazy.
Check out the video below and if you're convinced maybe there's still time to save the world from the Paul McCartney and Nirvana debacle set to take place later tonight:
☛ More: Dressing Gowns Are For Cunts Like Gary Barlow
☛ More: Forever In Debt To Your Priceless Advice – The 17th Anniversary Of Kurt Cobain's Death
☛ More: 100 Greatest Guitar Riffs
[yframe url='http://www.youtube.com/watch?v=6_ELGnmLJOs']