Residents of Gothenburg, Sweden woke up the other morning to find some pranksters had drawn a giant dick on snow covering a frozen lake in King's Park, as seen in the photo below:
Featured Image VIA
No biggie, just wipe away the snow and scrub it out right? Well, officials did attempt to reach the giant snow dick, but they found the ice supporting it was too brittle and probably wouldn't be able to support the weight of an adult, meaning there's no way anyone can get near the thing and they're essentially stuck with the thing all Winter:
"They judged that the ice would not stay put. They did not dare to go out on to the moat and consequently the artwork is there until thawing weather returns," Darko Brankovic, director of Gothenburg's Parks and Landscape Administration (Park- och naturförvaltningens organisation och ledning) told Swedish tabloid Aftonbladet.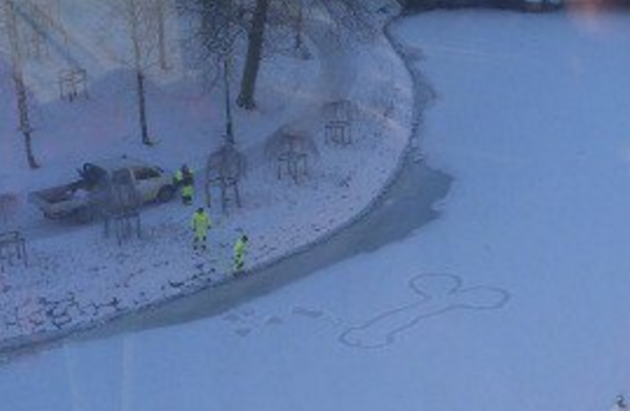 Firstly, big up the dick drawers whoever they are. Most snow dick you see get destroyed within hours of their creation but this one has some serious lasting power. These pranksters literally risked their lives to draw this thing in an area where no PC loser could show up and erase it. I mean no one wants to fall into an icy lake and freeze to death because they were trying to wipe out a dick drawing do they?
The only option they're left with really is to just appreciate the snow dick for what it is. A masterpiece that only works one season out of the year. Apparently loads of people ran to the police/authorities complaining about this snow dick. Those people need to chill the fuck out. Snow dicks are funny — let's leave it at that and let nature take its course.
No such problems in Sweden's Jamland region, where they're skating on awesome 10cm thick clear ice.