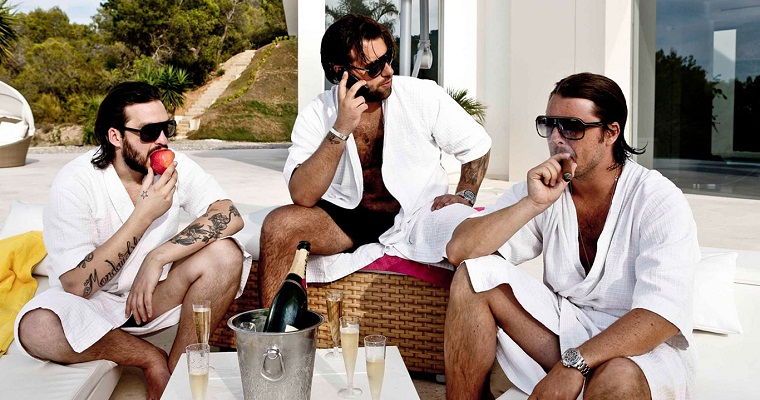 Swedish House Mafia announced last night that they are splitting after concluding their current tour, which has been met with dismay and upset from thousands of pricks wearing All Saints V-necks and Ralph Lauren gilets. Now I know that music is subjective and that you might be angry that I'm making assumptions about you or people you know for liking Swedish House Mafia, but you know what, I don't care. They make music for wankers who only just traded in those awful half scarf/half t-shirt tops and moved onto to wearing snapbacks. The sort of person who tried MDMA once and ended up downing pints of water and dancing on the bar while wearing sunglasses and a Jagerbomb soaked vest from Topman.
Swedish House Mafia add to the growing evidence that Sweden is pretty shit for everything, widespread racism, a shit football side (even if we did concede two goals, they are still shit) and a 'House Mafia' which makes commercial garbage for people to play loudly out of their recently modified Vauxhall Corsa. Plus the meatballs at Ikea are overrated, get over it. Also, Swedish House Mafia recently compared themselves to The Beatles in an interview. Yeah you read that correctly, THE BEATLES. Sebastian Ingrosso was quoted earlier in the week as saying:
"I think the Beatles made something that's kind of melancholic to sad and happy combined, and that's just amazing. I kind of analyse music a lot, and I think that what the Beatles have done is what we do today. It doesn't matter that we do dance music."
Christ almighty, what an arrogant shitstick.
Even PROPA NAWTY CHOON merchant David Guetta was gutted about the news, tweeting..

Guetta really is the authority on contemporary electronic music, especially considering he was booed when he picked up his award after being voted number one DJ in the world last year by DJ mag. Maybe he was booed because he looks like someone's dad who has discovered his son's decks and has shit hair, but also maybe because he made money by repeating the same three notes in about a million collaborations with other awful musicians.
Here's some of the twitter reactions.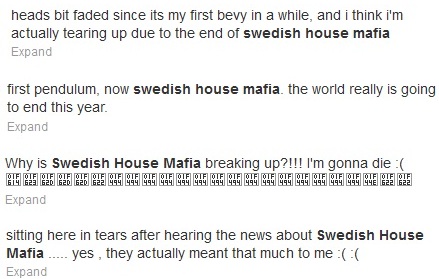 That last one is from a male.
I honestly could not read any more because it was making my soul die. This did get me thinking about the whole fanboy-ism that exists in twitter though, if morons in their droves were crying internet tears over the death of Swedish House Mafia, imagine if one of One Direction gets mauled by a bear or (inevitably) overdoses on heroin in a few years? It would probably break the internet.
Before you get brave on the comments you may want to consider that you probably think the music I listen to is shit, and I don't care if you do, so you shouldn't care if I think the music you like is shit. Different strokes for different folks so just calm down. But come on, they are awful.