Surfing is pretty cool, especially when it's summer and you turn the ignition on, turn the volume up, slide the windows down and drive to the coast with your boyz. Unload your boards, suit up and lay waste to the scything, salty summer waves. The coast is a good half-hour drive from where I live and the beach is decorated in donkey shit, smashed glass, knotted condoms and dried-out Bow cans and the sea is dyed in an inky brown from all the nappies that have been thrown in but right now it's the best we've got and in our annual week of sun, the beach and sea ain't that bad once you've had a few doobies.
☛ More At The Beach: Spandy Andy Rips It On The Beach In His Sparkly Speedos
Every once in a while, a mother of a wave will arrive and tower over you like Saturday night regret until it crumbles down and smothers you and urges you to your feet and you get up and ride that fucker until its dying gasps finally eke out and you're left on the inky brown/shimmering blue again, floating on the water with the sun hammering down and the sea-crystals baking your head and hands into surefire cancer magnets.
Even if you're not a fan of perusing the waves, you've gotta say that even watching surfing is intense. Sat on the beach, your cans chilling in the ice-box, your green catching some Z's in your pocket, your boyz chatting shit about times long gone but times long remembered, waiting for the surfer dudes and surfer babes on the water to catch the waves at the right time, watching them riding the waves, slicing them up like sickos, chopping each rising wave up like Uma Thurman dishing out the pain in the Kill Bill franchise, clawing their way back out to the hot-spots, bobbing there like pieces of fruit in a Müller yoghurt. It's better when there are surfer babes slicing the waves, but that goes without saying. The majority of surfer babes are every man's dream, with their awesome penchant for extreme sports and taste in music and tanned skin and sun-bleached hair and fit bodies and their ability to enjoy a good smoke.
But there's always one thing that my mind wanders away to when I'm surfing/watching surfing. I always think, how cool would it be right now if there were animals surfing; awesome animals like a giraffe or a rhino or a sloth or the most awesome of all animals – a pig. And then I imagine those dudes absolutely ripping it up and showing everyone how it's done and everyone leaving the water because the animals have just destroyed all hopes and aspirations.
☛ More Animals Surfing: Surf's Up, Dogs
But I won't need to imagine this anymore because something completely legit has happened to the world. Yes, your dreams and my dreams have amalgamated and spiralled away and fallen back to earth and created one of the best things ever.
A surfing pig.
Named Zorro.
Who is a boss and lives and surfs in New Zealand.
☛ Read Next: Garrett McNamara Surfs A 100 Foot Wave To Set A New World Record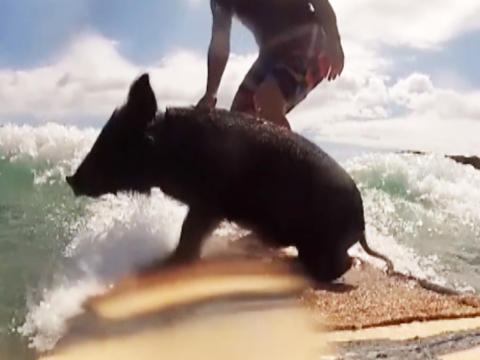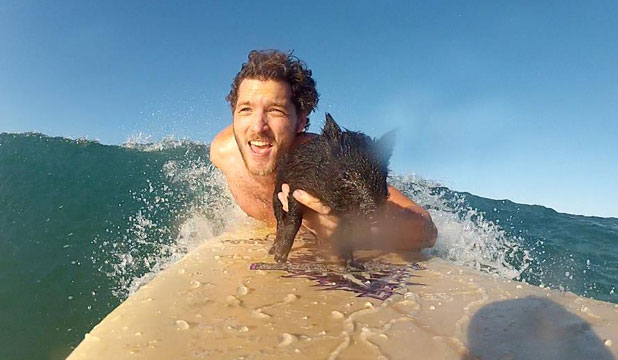 Zorro picked up a love for surfing when he first joined his owner on a trip to the waves. Ever since, the 2 month old piglet has perfected his technique and knowledge of surfing and is regularly seen at the beach, riding the water. His owner says Zorro is a friendly guy who's happy to visit everyone and dish out his happiness but I just can't help but think that the piglet's gonna get pretty big pretty soon and he definitely won't be able to ride the waves then. But his owner has this to say about it:
"We'll keep surfing until he gets to the size where he's unmanageable. See what happens after that."
Pretty chilled guy, pretty chilled piglet. Pair of dudes. Let's hope Zorro won't miss the beach and waves too much when he grows up and will have to resort to sniffing around in shit/mud before he gets his throat slit for the bacon gang. Check out Zorro being the boss:
☛ Even More Animals Surfing: Surfing Goats: What The Heck?
[yframe url='http://www.youtube.com/watch?v=SdhYy00ahnc']
Follow: @Beard_22 @SickChirpse