We announced back in November that Universal Studios was working on a Super Nintendo world as an addition to their theme park over in Osaka, Japan (with plans to come to the US afterwards as well), but we could only speculate about what kinds of rides they might be bringing us.
Images VIA
With the park not due to open until 2020, we're still speculating, but the guys over at Reddit have come up with some tasty sounding ideas based on patent documents filed by the company. Here's what they had to say about them: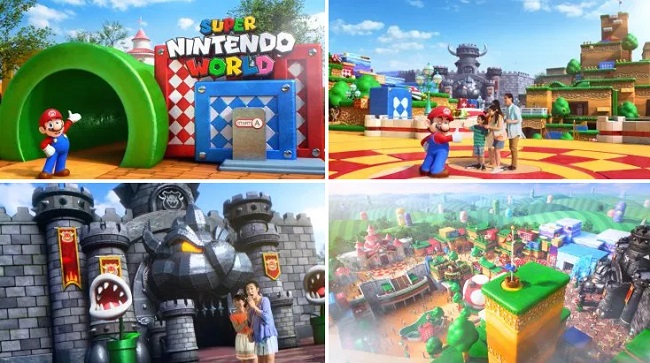 Previously patent documents showed a ride vehicle built for two riders that is constructed to simulate a "drifting" effect. One rider would have control over the steering and speed of the vehicle while the other rider could provide the vehicle with various boosts and hinder other vehicles.

Another patent for a "boom coaster" showed a ride vehicle that appears to be traveling along a track but is actually operated by a mechanical arm, allowing it to "leap" over obstructions, simulating death-defying aerial maneuvers over holes in the tracks like those mine cart from Donkey Kong Country, a video game property that has yet to be confirmed for the park.
I mean, those both sound like pretty revolutionary rollercoasters/rides right? I'm not sure how the Mario Kart ride is actually going to be safe to go on, but I guess if they've got three years until it opens, they'll have time to figure it out. Probably gonna book a trip to Japan for 2020 based on that alone.
For more Nintendo, check out the SNES Classic that should be coming out later this year. Gotta pick it up quick though.