Christmas is notorious for fast food restaurants and supermarkets bringing out Christmas themed food items, but surprisingly Subway haven't cashed in on this with one of their own Christmas sandwiches until 2016.
Images VIA 
Times are a changing and that's signified by the release of The Festive Feast Sub. As you might expect with Subway and Christmas, it's heavy on the meat featuring turkey breast, pork sausage, streaky bacon, cranberry sauce and the salad items and sauce of of your choosing.
I'm not really sure how this is different to any of their other sandwiches really, other than the addition of cranberry sauce (which is now available on any sandwich too incidentally) because you probably could have made this sandwich yourself there with all the ingredients already. But I suppose you've got to give them props for trying and getting into the Christmas tradition.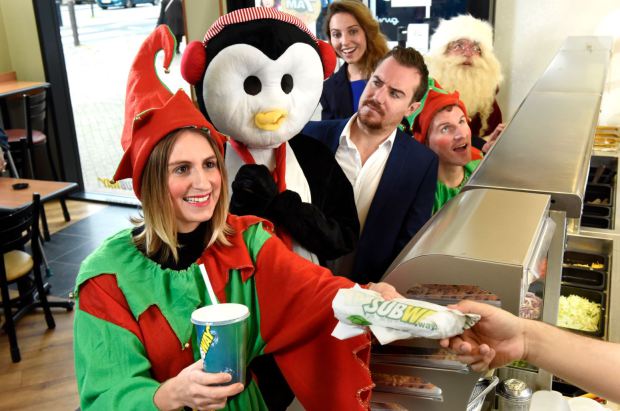 As you can see above, Subway celebrated the launch of the new sandwich by organising a photo shoot in a Subway where a load of people dressed up as Christmas characters to order The Festive Feast Sub. I'm sure Father Christmas and all the elves up at the North Pole have been itching to get their hands on it all year.
If you fancy one – not sure I'm convinced, but I'll probably end up getting one anyway because it's a limited time only kinda deal – then it's £4 for a six inch with a drink. If not, maybe check out Nando's Christmas menu which looks slightly better.