Let's be honest here, we've all done it once. Whether it was when you were 16 or 46, most of us have cheated at some point in our lives. It could've been a peck on the lips, it could be a simple snog or it could be a full blown affair that destroys the lives of you and your family. However, in some towns in the UK having an affair is more popular than in others, so if you live in the Royal Tunbridge Wells look away now – you dirty, dirty dogs.
FEATURED IMAGE VIA
That's right, Tunbridge Wells whose occupants were listed as the happiest people in Kent, is the most adulterous area in the UK with 1,146 people admitting to currently having an affair – which equals 2.2% of the town's population.
According to the statistics released by the Official Infidelity Index which draws its data from IllicitEncounters.com, a dating website for married people – Barry in Wales is the most faithful town in The UK with only 88 people currently playing away which is surprising given there is literally fuck all to do in Barry, so at least an affair would make your life interesting.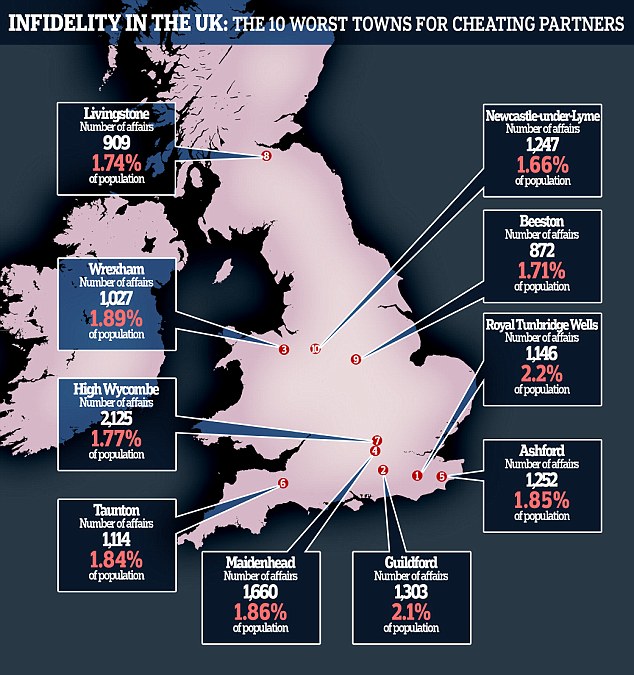 For once in their lives, there's also good news for Londoners. The capital was found to be the 5th most faithful city in the country which is probably due to the fact residents can't afford to go out and meet new people, let alone book a hotel room to shag them in. Glasgow was also up there with the least adulterous, with 0.56% of its adult population having an affair.
If you want to find out where your area ranked in terms of adultery, check out the full list here or take a look at the top 10 below.
Royal Tunbridge Wells

Guilford

Wrexham

Maidenhead

Ashford

Taunton

High Wycombe

Livingstone

Beeston

Newcastle-under-Lyme
If you would like to read about the ramifications that an affair can have on your life, check out this teacher who got stripped naked and beaten for having an affair with one of his students.