I used to always dream of pulling off the perfect end of high school prank during my time there, but when the occasion finally arrived none of us really had a clue what to do.
These kids from Sequoyah High School in Tennessee absolutely smashed it though, and will ensure that nobody in their town – or even the world – ever forgets the class of 2015. Originally it was thought that the prank started off innocently enough with the deputy principal letting in a few students who wanted to throw some balloons and glitter around the school for the last day of class. Soft or what?
Fortunately a bunch more badass students showed up at around 1 a.m. with all manner of materials to completely trash the school. These included chickens, crickets, rubbish bins, baby oil, ketchup, and marbles which were placed in front of doors to make teachers fall over when they walked through them. Not exactly genius or as creative as this prank from last year, but effective nonetheless.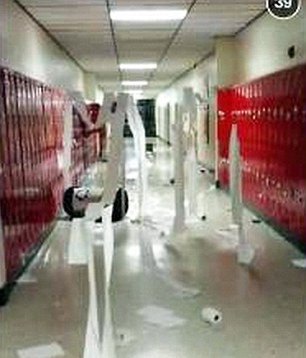 Images VIA
The damage was so serious that over 100 students have been banned from attending graduation, but we think they should probably be proud of their involvement in something like this rather than disappointed about missing their graduation. Respect.
Both the principal Gary Cole and deputy principal James Fisher – who was seen on CCTV letting the students into the venue – have been suspended without pay until the conclusion of an investigation by the sheriff's department.
Apologies about the images but they're all from Snapchat so you can't really get much better quality.