If we had it our way every student would be able to RKO their school principal/headmaster at least once, but alas that sort of thing is very much frowned upon, as this student in Florida found out this week.
Featured Image VIA
#EXCLUSIVE: Southridge High student Gianny Sosa, 18, charged w/ battery on a school official & interference w/ an education institution after police say he attempted to perform a professional wrestling move known as an #RKO on his principal Humberto Miret. https://t.co/YM3TILZvqw pic.twitter.com/m1V8P7qdfn

— Liane Morejon WPLG (@LianeWPLG) April 11, 2019
Must have taken balls to try that, but have to say that was a pretty poor RKO technique. No wonder the principal reversed it with so much ease.
Here are some tips from the master of the RKO himself – you've got to really get a good grip and come off the floor a little bit before nailing the move: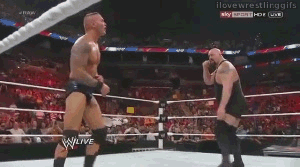 And this one, probably the best RKO of all time – look how gassed Randy Orton is after he nails it:
What a legend.
For the time Randy Orton was accused of pulling his dick out and sexually harrassing WWE writers, click HERE. They don't call him 'the Viper' for nothing.