Pit bulls have a bad rep thanks to people who are quick to dismiss them as inherently violent animals, but as many owners of this breed will know, there's no such thing as a bad dog – just a bad owner.
Images VIA
In fact, pit bulls have proven themselves time and again to be incredibly affectionate and protective of humans. Case in point: this incredible doggo who went from man's best friend to hero of the day after he jumped to the rescue of a woman who was being assaulted. And it nearly cost him his life.
According to local reports, the unnamed stray over in Georgia noticed the vicious attack and stepped in to defend the woman when the man pulled out a knife. The poor pup was stabbed five times in the process.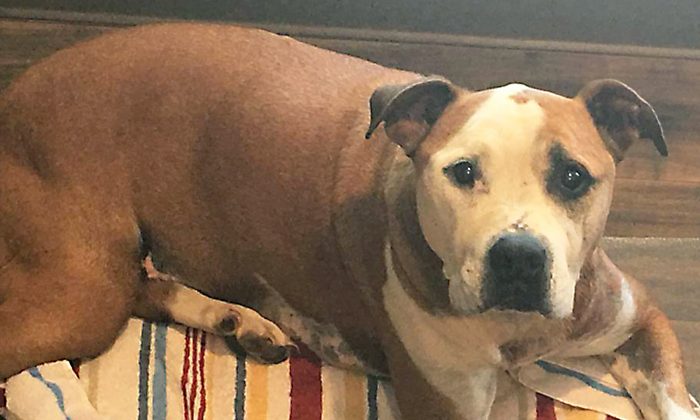 Sergeant Timothy Clay and Officer Daniel Seeley arrived on the scene to find him bleeding, with Clay stating:
I don't think we could have let that dog suffer and die. We felt like we needed to get that dog some help after what it had been through.
When they took him to the vet, the heroic pet slumped onto the table. Having lost so much blood, it was touch and go – but this dog is a fighter and he pulled through, making a full recovery and earning the name 'Hero' in the process.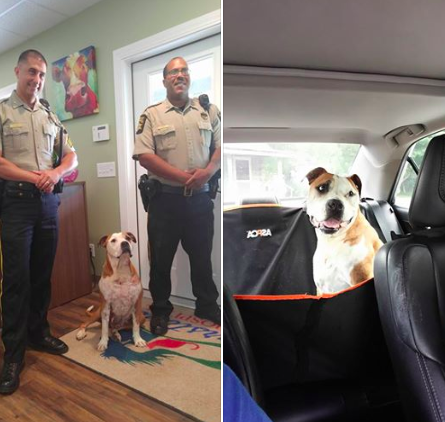 But his journey doesn't end there, as soon after Hero was transported to Welch's rescue centre over 190 miles away in Knoxville, Tennessee, where his story got out and soon enough he found his loving forever home with a local couple.
I'm not crying, you're crying.
For more on why pit bulls are the best, here are two of them saving their owner from drowning. The heroes we don't deserve.