You might remember Steve Brookstein from 10 or so years ago when he won the X Factor, but then kind of flopped to the point where Simon Cowell brushed him under the carpet like he never even existed.
Featured Image VIA
Well today on the anniversary of the 7/7 attacks, Steve decided to send out a Tweet remembering what that day was like for him all those years ago: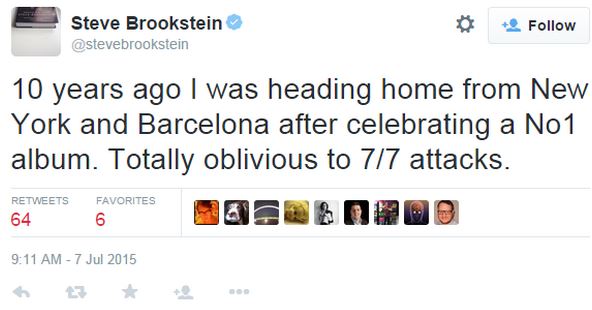 Didn't really think that one through did he? Naturally Twitter responded with some classic roasting:
@stevebrookstein a horrific tragedy that shocked the world and ruined so many lives. All on the same day as the terror attacks. Shame on you

— Ron (@deadstick_ron) July 7, 2015
10 years ago I was celebrating being totally oblivious to Steve Brookstein's existence.

— Gav Murphy (@cymrogav) July 7, 2015
My thoughts go out to the 105,088 people who, 10 years ago today, bought Steve Brookstein's album making it a UK No.1

— Nathalie Gordon (@awlilnatty) July 7, 2015
Steve Brookstein will always remember where he was in 1974, eating Play-Doh in the sandpit, completely oblivious to the Watergate scandal

— David Jones (@jonesthescribe) July 7, 2015
Wow, can't believe it's already been 10 years since Steve Brookstein was heading home from New York with a No.1 album. Doesn't time fly?

— Matt Waldram (@mattwaldram) July 7, 2015
In March 2011, Steve Brookstein was crying into his pillow, wondering where his career went, oblivious to the Fukushima Accident. #moron

— Joseph Seager (@josephseager) July 7, 2015
but we can all take solace in the fact that come tomorrow morning we will once again have forgotten who Steve Brookstein is.

— Ariadne Griffin (@Ariadne_Griffin) July 7, 2015
I'm sure the guy didn't mean to come off like such a douche but that's why you've really got to check your Tweets before sending them. I'm guessing he doesn't have an assistant to do that for him these days.
If you haven't seen it already, check out this animated video created by a 7/7 survivor recalling the horror of the King Cross tube bombing.