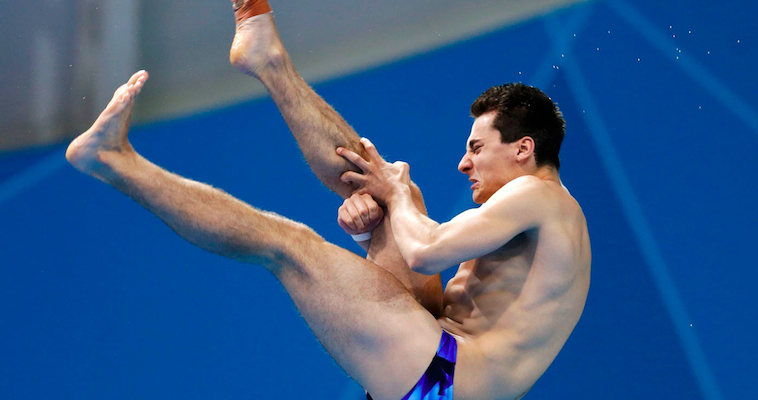 I think despite the feelings of dread and indifference that initially surrounded the Olympic Games being held in London this year that they seem to have captured the hearts and minds of most of the nation and most people seem to be enjoying them. Except for Lazer Horse and Matt Morris that is, who both conveniently write for Sick Chirpse. You can check out their thoughts on the Dark Side of The Olympic Games and 3 ways to Improve the Olympic Games at the respective links. But for the majority of us, the Olympics have been cool and we've been hanging out with our buddies in cool parks and at  cool places like Puma Yard watching events that we never really gavea fvck about before like beach volleyball and handball. It's been a good time.
But one thing that this Olympics hasn't really served up for us yet is someone completely fvcking it in their event. Or should that be fecking it? Sure people like Tom Daley and some other GB guys that nobody really cares about screwed up their events and didn't win when everyone thought they might have a shot at it, but nobody has completely fucked it so hard that they're a laughing stock. They just weren't good enough or whatever. That's cool. But a couple of days ago, somebody really did fvck it up. I mean feck it up.
Enter Stephan Feck, who's an Olympic diver from Germany who's  going to be famous because he just completely screwed up his Olympic dive good and proper. It's supposed to be a couple of somersaults into a pike or something but he completely fecks up his runup, which leads to him catching his toe on the diving board and as he jumps up he's nowhere near in the right position for the dive and it just unravels from there and he ends up spazzing out ('looking like the Isle of Man' to quote the commentators!?) and slamming into the water on his back, which has got to fecking hurt. You can only really tell on the slow motion replay but he fecks it so bad, how do you even get your arms around ONE of your legs and not the other? I'm no diver, but that seems harder to do than the actual dive. I guess he just completely fecked it.
Sorry about the bad quality of the video but those Olympic Police have clamped down on a lot of the videos on YouTube. You can find a better quality version HERE. I also put in another cool vide of a guy with a weird face making as many feck jokes as possible which is kind of cool, although not really. He just has such a dumb face though. I found it when I was looking for one of the dive. Enjoy.
[yframe url='http://www.youtube.com/watch?v=lBGPbSkWSFU']
[yframe url='http://www.youtube.com/watch?v=5qPxrOTPjAc']