The bouncers at Stealth nightclub in Nottingham have a reputation for being heavy-handed, but they took things particularly far last Saturday when they began battering a group of girls and ragdolling them outside the premises.
Victim Niamh Watson shared the following clip on Twitter:
At @stealthclub on Saturday night I'm honestly traumatised by everything that happened and just want to pre warn everyone of these horrible people who layed there hands on us FIRST we just had to retaliate in the end https://t.co/sa1zjqSvSX pic.twitter.com/HXZs7Zdhm1

— 🧞‍♀️ niamh (@niiamhwatson) November 8, 2021
There's a longer version of the video and pictures of her injuries on Facebook, alongside this description of what went down: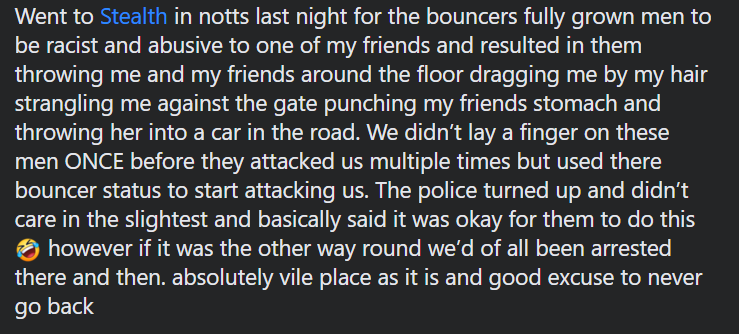 It's possible of course that the bouncers have their own version of events as far as what sparked the incident and overall context, but whatever happened, I'm not sure what they hoped to achieve by choking a girl against a fence and throwing her onto the ground. As we mentioned – the bouncers at this club have previous for this sort of shocking behaviour.
Stealth have released the following statement: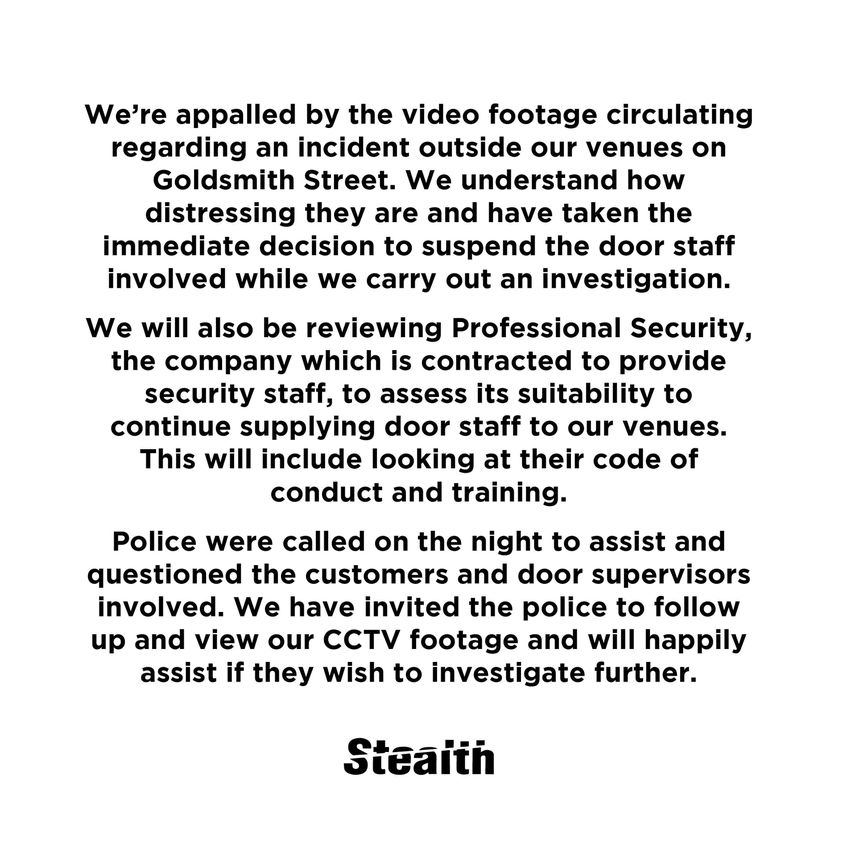 Well that's good. Shame it took actual footage going viral to prompt anyone to do something about this, but better late than never. It's too bad you get d*ckhead bouncers like this in the first place who make all the decent doormen around the UK look bad.
Wishing a speedy recovery to Niamh and anyone else affected by the incident.
To watch a McDonald's security guard batter a woman with a stick after she threw a drink at him, click HERE. One or two lashings might have been OK, but dude took it a bit far.