It seems like a really long time ago that people were protesting about Black Lives Matter and tearing down statues all over the world, but in reality it was only a little over a month ago – for many though it probably seems like the movement has died out as quickly as it gathered momentum.
Images VIA
However, somebody out there definitely wanted to reignite the controversy, a statue of Black Lives Matter protester was this morning placed on the plinth in Bristol where the controversial Edward Colston statue had once resided. The sculpture was created by artist Marc Quinn and is called 'A Surge Of Power' – he said he wanted to capture the moment when Jen Reid stood atop the plinth with her first raised in the air after the statue was torn down.
The sculpture was placed there and photographed shortly before 6am this morning. Quinn had the following to say about it to The Guardian: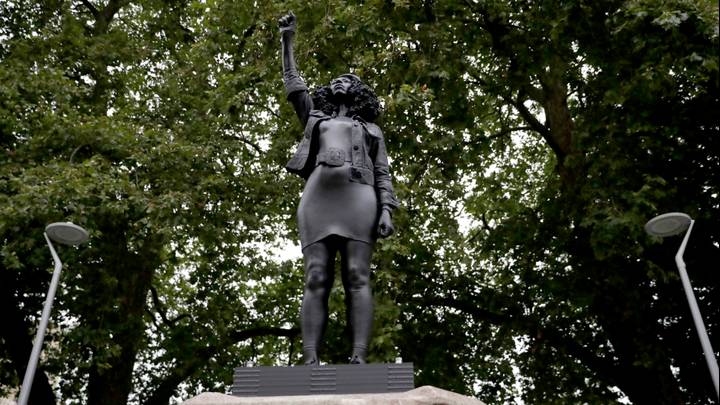 I've always felt it's part of my job to bring the world into art and art into the world.

Jen created the sculpture when she stood on the plinth and raised her arm in the air.

Now we're crystallising it.

The sculpture will be extremely difficult to move.
That's a bit mysterious isn't it? Does he mean physically or figuratively as well?
Either way, you know that there are going to be people that are supremely stoked about this and people that are supremely angry and maybe a couple of people in the middle. Feel like it's generally a polarising subject though given what was going on just a month ago, so it's difficult not to have an opinion on it one way or the other.
Not really sure if Quinn should have put it up illegally but you can't really deny the symbolism of it, although that could start another debate about why people who hate old statues so much are bothering to replace them with new ones. Yeah, I get that they're representing new ideas and people, but even so it's very easy to ague that they shouldn't be utilising that old archaic form or representation judging by their previous actions.
In all honesty, I doubt the two opposing viewpoints can ever be reconciled, but I think you have to admit that whichever side you fall on that this was a massive power move from Quinn. Hoping it doesn't lead to more violence and aggression, but can definitely see some people sneaking in and tearing it down in the next couple of days. Or maybe everyone will be too busy down at the pub now they've re-opened?
For more of the same, check out this story about a 24 year old mother who was shot dead after an argument with a Black Lives Matter supporter. What a waste.