A seriously disturbing clip of a man attacking an off-duty police officer "for no apparent reason" at a Walmart in South Carolina has gone viral due to the sheer brutality of the assault and the fact it just happens out of nowhere.
Featured Image VIA
The officer was working his second job as a Walmart security guard when this happened:
Jesus Christ what a beatdown. And completely unprovoked too. Although if I had to guess I'd say this guy is one of those 'ACAB' types who thinks beating up any police officer is a righteous act because of the issue of police brutality.
According to the Charlotte Observer, the suspect ran from the store, jumped in a black sedan and tried to speed out of the car park, but crashed into another vehicle and was arrested. Whoops.
Here's the suspect – 22-year-old James Ray Cunningham: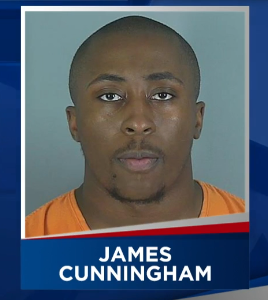 The off-duty police officer/security guard was rushed to hospital but his condition is currently unknown. It's a good thing a few dudes got together to pull Cunningham off him (eventually) otherwise who knows how much worse the situation could have gotten. After all, Cunningham has already faced charges for attempted murder after stabbing his own brother in the neck in 2017. He also beat up a female McDonald's worker in 2018. How is he still walking the streets in 2020? Fuck knows. Sort it out, America.
To watch police take down a crazed knifeman by ramming a car into him, click HERE. Pretty awesome to be fair.