24-year-old soldier Patrick Casey had a lucky escape when he tried to overtake two cars on a narrow country road in Howden, East Yorkshire, only for one of them to pull out at the same time as him, sending the guy somersaulting over his bike as it crashed to the ground.
Images VIA 
Amazingly he only suffered from some whiplash and bruising, but if you check out the video below you'll think that it could have been way worse. His father had been filming the whole thing on his bike as he followed him to a charity ride.
https://www.youtube.com/watch?v=PhSzgUqjQDU
Ouch. Incredibly, the car in front of Patrick who knocked him off his bike didn't even stop to see how he was and instead decided to speed off into the distance. Police are now looking for the driver in relation to the incident.
Patrick himself is particularly disgusted with his actions, not least because his 'pride and joy' Suzuki Rizla branded bike  – one of only three in the world – may have sustained damage, making it impossible to ride it again:
It's disgusting that the driver wouldn't even stop to check on me. For all they know, I could be dead right now.

I had been following the car for a few minutes and I was patient before I moved to overtake him. I indicated and then he's moved a couple of seconds later and not seen me.

I'm lucky to have escaped with just the injuries I have. I've got a grazed elbow, whiplash, a dead left leg which is still very swollen, and bruises along with my hip and everything between.

If it wasn't for my dad being right behind and the help of the other road users then I would have been left for dead.
Yeah I mean to be honest, you would be pretty pissed off about that wouldn't you? Can't blame the guy for being angry.
However, I think we really need to talk about the main point of this story – that this guy owned a Rizla branded motorbike. Why the hell does that even exist and why haven't we heard about it sooner? Absolute game changer, although it's probably going to lead to accusations that he was stoned whilst he was driving, isn't it? Take a look at it in all its glory below: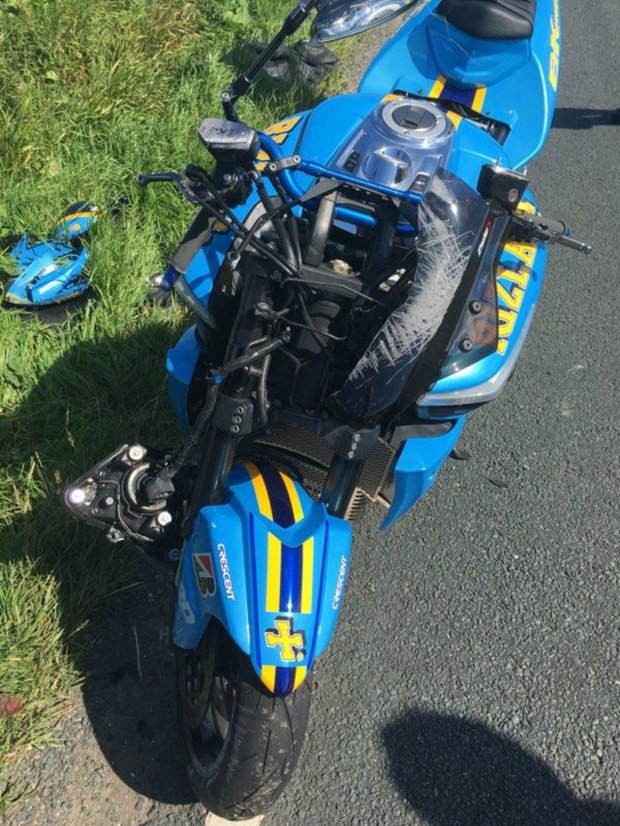 What a beauty. I bet all the stoner girls love riding around on the back of that don't they?
If you're a girl looking to snag someone like Patrick Casey, check out these 10 top tips for snagging a stoner.