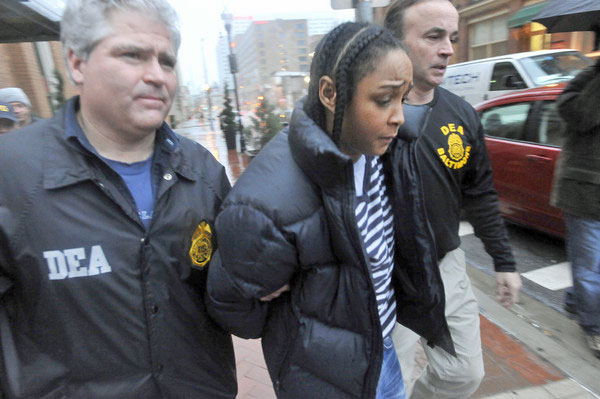 I've been following this major drug raid in Baltimore (via the Baltimore Sun) since March 10th. Included in the 63 arrested, was Felicia Pearson. Yes, Felicia 'Snoop ("Yer Herl")' Pearson from The Wire. There has been a lot of press in Baltimore about this "Dope On the Table"-style, "top to bottom" drug raid, so I decided to look back over the articles I've read in the past week to try to figure out exactly HOW MUCH dope was actually put on the table.
httpv://www.youtube.com/watch?v=PxBVSXquI3o
I got my answer; often at the close of each article. To quote Justin Fenton Baltimore Sun article [page 3 of the above linked article]:
Officers executing 40 search warrants confiscated four guns, 5 pounds of marijuana and 5 grams of raw heroin, according to Commissioner Bealefeld.

"I'm confident we've made a section of Baltimore much safer," the commissioner said."
5 GRAMS. 4 GUNS. 5 POUNDS OF WEED. 63 PEOPLE ARRESTED. 5 MONTH POLICE INVESTIGATION.
This beguiling answer to the question "how much dope?" left me with yet another question:
What kind of kindergarten-sized dwarf tables do the Baltimore Police use these days?
Celebrities should realize that in this world of gossip blogs and paparazzi, the whole world would easily know about their most private secrets, from their drug dependency to their $ex lives.