It's been 24 years since Snoop Dogg released seminal track 'Gin and Juice' and unfortunately for advocates of the song, it's just not as prevalent these days for guys to be rolling down the street, smoking indo and sipping on gin 'n' juice.
Featured Image VIA 
Snoop isn't happy about that though and wants to change it, and in order to do so has decided to partner with Tanqueray Gin to make it happen. The first step to this was to assemble The Tanqueray Ten back in January for a photoshoot promoting the gin, with the other members comprising of music artist/rapper Ty Dolla $ign, actor Terrence J, music artist/rapper STIX, photographer Aris Jerome, photographer Marcus Hyde, jewelry and fashion designer Melody Ehsani, celebrity stylist Ugo Mozie, visual artist Devin Troy Strother, music singer/songwriter October London, and recording artist Lalah Hathaway.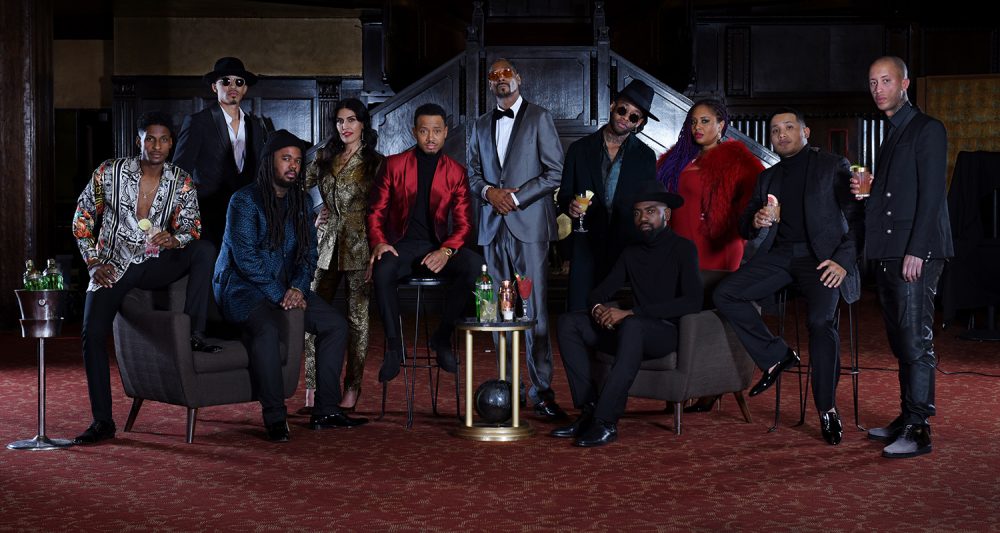 Snoop has also created his own drink to celebrate the partnership, fittingly called 'The Laid Back'. It consists of one part Tanqueray Ten, one part P Diddy's Ciroc Apple Vodka, two parts pineapple, all topped with soda. Snoop explains why he decided to set up shop with Tuanqueray and why he wanted to combine it with Diddy's favourite alcohol too:
I don't do the brown alcohol because I'm brown enough. That stuff gives you the type of hangovers that have you saying you won't ever drink again. Tanqueray, on the other hand, leaves you wanting to try it all over again. There's a certain sophistication and upper echelon when it comes to gin.

Tanqueray has always been good to me and we never really had a working relationship. I would order bottles and they would look out for me because of what I'd said on my song and whatnot. So I never had a relationship with them, and once their people got at my peoples, we forged a relationship and there were things we wanted to do to enhance it.

They got great behind-the-scenes people who work at Tanqueray who make suggestions, who give me ideas and work with me, and they gave me suggestions that they coulda, woulda, shoulda, and we came up with the idea being that it's all up under the same umbrella. And then Puffy is one of my closest friends, so he don't mind me giving his drink more play too.
Think it's Diddy these days Snoop, but whatever. Hopefully this initiative gets people rolling down the street sipping on their gin and juice again, although considering it began in January and I haven't seen an influx of people, we can only assume that it hasn't had the desired effect just yet. There's still time though.
For more Snoop Dogg, check out Carlton teaching him how to do the Carlton. Epic.