In what must surely be a collaboration brokered by Satan himself, Skrillex has announced that Justin Bieber is the most talented person he's ever met in a recent radio interview. How does he know this? Because Skrillex is the lead producer on Bieber's new record. Jesus Christ I know.
Here's what Sonny Moore had to say about Biebs:
It doesn't even matter what anybody says. He's the most talented, gifted kid I've ever seen. Like, at everything.

He can skateboard. He can, like, beat everyone at ping-pong and pool. He's so talented and competitive and wants to be good at everything. He's also really quite a sweet person as well.

He's on fire right now, and I think he's re-inspired. The approach on the new album is just, like, whimsical, and just fun and anything goes right now, and as long as it's good music… that's the vibe.

It's incredible, and we're just making good songs.
Hmm Justin Bieber and Skrillex making good songs/good music!?!? That doesn't sound very likely to me, although maybe two wrongs can make a right, I dunno. Judging by their first single I wouldn't be so sure though.  Is anyone actually excited about their new record dropping on November 13th?
To be honest it kind of sounds like Skrillex has got a bit of a crush on the Biebs to be coming out with all this baloney. I mean does he really need to say all that stuff – they're just working on a record together, there's no need for the hyperbole is there? Definite bromance going on there and possibly more.
Featured Image VIA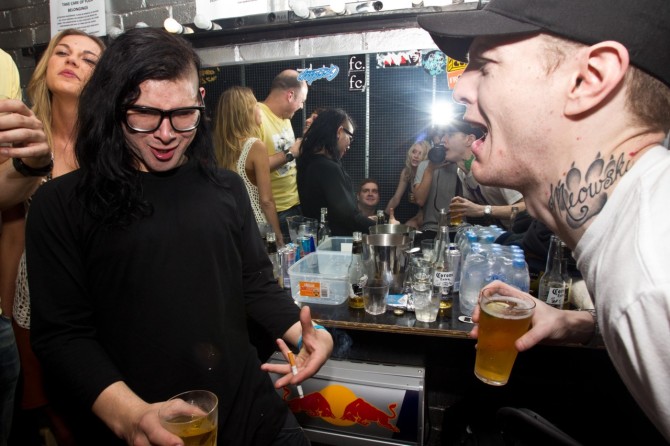 Image VIA
Skrillex also had the following to say about Deadmau5, after Deadmau5 had trolled him with a parody version of his hit single with Bieber and Diplo 'Where Are U Now?":
I'll always have love for Joel because he put me on at an early time, but he's an asshole. And everyone knows that, and he knows that. And that's kinda his thing.

I mean, the one thing that is unfortunate about it is that he has a record label. And when you have a record label, you gotta be a leader.

And he has people that are like signed to him. And I couldn't imagine being a leader, you know, going out in the public image being such a negative attitude…

I don't take it personally because I'm secure with myself and what I do, I love what I do. But I almost feel bad that that's his one way of getting attention rather than going into music and curating.

I think his attitude's changed over the last couple years. I personally have become less connected to his music because his personality is almost overshadowing that, when he is such an incredible artist.
Ouch. Shots fired. Bear in mind that Deadmau5 pretty much gave Skrillex his big break and you can bet this isn't going to end well, especially as DeadMau5 isn't exactly one to keep his opinions to himself. Hopefully this can be another new music feud to add to Bronson and Wu Tang Clan and Drake/Meek Mill. Watch this space.
In the meantime you can check out the full interview below: