This year marks the 20th anniversary of one of the most important songs of the last two decades – The Thong Song by Sisqo.
Featured Image VIA
If you weren't of age in 1999 then you simply cannot know what a big deal this song was to that generation. There was no instant porn at the tip of your fingers, hell not even everyone had internet by then. But when the Thong Song came on MTV it opened a lot of young people's brains to the concept of thongs and crucially – women wearing them.
Here's a reminder:
Well Sisqo has now given an interview to commemorate 20 years since the song's release and among the things he's said is that the Thong Song actually boosted sales of Victoria's Secret thongs by 80%. Say what??
That does sound pretty outrageous, but apparently it's true as when the song was blowing up he tried to strike a deal with Victoria's Secret, but they told him they'd already profited from it big time (via Complex):
Once I realised how big the song was. I was like we need to go and talk to Victoria's Secret. But everything was moving so fast, it got away from us. By the time the song had blown up, we went to go have a meeting with Victoria's Secret.

They were like, 'As much as we love the song, and you seem like a great guy … but thong sales have already gone up 80%.' They had got their bag already. But fast forward 20 years later and we laughed all the way to the bank too.
He also shared a story about the first time he ever saw a thong, which inspired him to write the song:
I meet this girl, and I wasn't married or nothing back then, so we get back to the crib, and you know, I'm rounding second base and next thing you know she starts to come up out of her clothes and I see this … this … THING. I was like, 'What is that?!' She was like, 'It's a thong!' I was like, 'A THONG?!' … The next day I call all my boys and I'm like, 'Gather around let me tell you tale. I saw this THING. It was like dental floss, but it was underwear. She called it a thong.
Watching that video again and remembering how popular the song truly was, maybe it isn't so crazy to believe that the Thong Song boosted thong sales at Victoria Secrets by 80%. I mean look at the views on the video for one: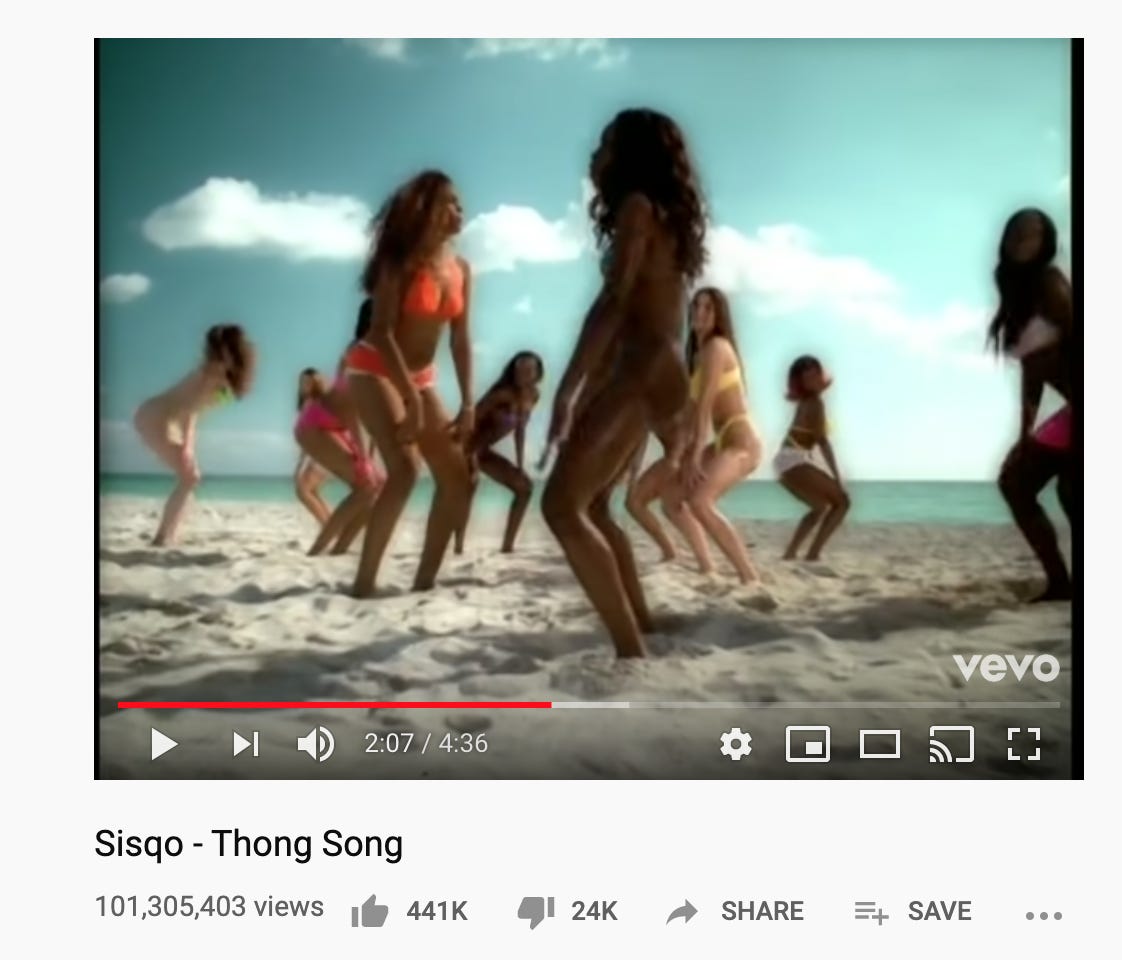 100 million views is A LOT of views. How many people at the time only learnt what a thong was thanks to Sisqo? Not to mention the song was everywhere for like 5 years after its release and still gets played in clubs and on TV now and again.
So yeah all things considered, I'm fairly convinced Sisqo and the Thong Song did their bit in boosting thong sales not only at Victoria's Secret but all around the world. Just sucks for him that he wasn't able to strike a deal with them sooner but like he says, he's super rich anyway. Fair enough.
P.S. The joker even performed Thong Song at his own wedding. Bet his wife loved that.