Simon Cowell has obviously never been that universally popular due to his straight and narrow approach in the X Factor, but he might have actually got himself into trouble over an issue that's a lot more serious this time.
Cowell publicly donated £90,000 to the Friends Of The Israeli Army last year at a benefit held in Beverley Hills by billionaire TV magnate Haim Saban and is paying for the price for it now after the recent escalation in violence between the Palestinians and the Israelis as he's being constantly trolled on his Twitter account with images of dead Palestinian children by people that don't approve of his generosity. 
Even though the Friends Of The Israeli Defence Force is an organisation that 'provides Israeli soldiers with 'love, support and care in an effort to ease the burden they carry on behalf of the Jewish community worldwide' i.e. helps them relax when they're not in the field and assists the families of casualties, many Twitter users confused Cowell's donation and thought that he gave money directly to the Israeli Defence Forces – hence the abuse on Twitter. 
What's more, Cowell himself isn't actually Jewish – he was raised a Catholic – and it's more likely that he gave the donation to curry favour with Saban – after all they are in the same industry – and also due to the fact his new wife is Jewish and he's been embracing the new faith ever since their marriage. Incidentally, if you don't remember Cowell's wife, Lauren Silverman was the wife of one of Cowell's mates when they got together and he subsequently got her pregnant. Class all around between this pair.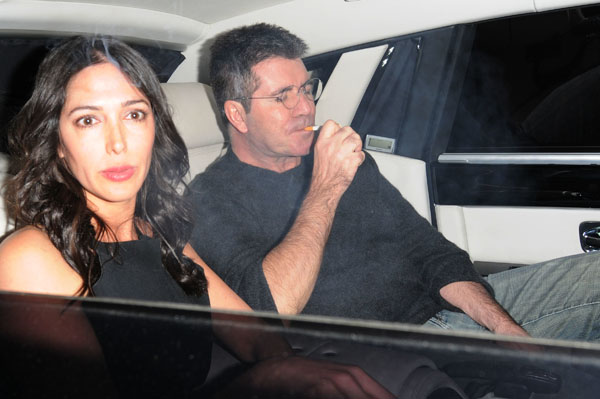 I'm not really sure whether that's any better or worse than a Jewish man donating a bunch of money to the FIDF. But it's definitely better than anyone donating money directly to the IDF or Israel itself, that's for sure.  Either way, even if it is Simon Cowell we're talking about here, I think this trolling is pretty indicative of all the uneducated trolls on Twitter because his money hasn't directly helping finance and facilitate the current violence at all as he isn't donating money directly to Israel. That is unless they're funnelling it through the FIDF somehow – which if 24 or House Of Cards is anything to go by is definitely possible. 
Of course, there is the whole argument that anyone supporting Israel in any way at this time isn't really helping the situation over there, but I think there are a lot worse people to accuse of this and blame for what's going on over there other than Simon Cowell right now (you know like the USA, who give Israel $8million a day, much of which is spent on their military), and that's why it seems so pointless and dumb to be trolling him on Twitter over it. Get out there and do something useful about the situation if you feel so strongly about it instead of messing around on your phone tweeting people who aren't going to listen/care/do anything.
Here are a few of the tweets about it – I've included them without pictures because I didn't want to put pictures of dead babies up on the site, for obvious reasons:
@SimonCowell wonder if you can sleep at night knowing the money YOU gave to Israel will be used to massacre innocent people..#norespectforu

– Sara Nisar (@SaraNisar2) July 11, 2014
#PrayForGaza #GazaUnderAttack Simon Cowell donates £100,000 to Israel but when Ramadhan finishes we can't wait to watch him on TV again!!! – Gaza Geeza (@gaza_geeza84) July 11, 2014
Simon Cowell donated to Israel just to please his girlfriend. What about the innocent children that would be killed as a result. #disgusting

– A (@__meganxxxxxxx) July 11, 2014
I USED LIKE SIMON COWELL, UNTIL I FOUND OUT HE DONATED £100,000 TO ISRAEL. #FreePalestine – حفصه™ (@ZAYNCHXNEL) July 11, 2014
Simon cowell gave a huge amount of money to Israel erm would like to change his name to Simon cow thanks that's all

– shan (@Shahanabegum00) July 12, 2014
simon cowell contributed $100,000 to donate to Israel Defense Forces and israel managed to kill more palestines im so angry – mariam is STUP1D AF (@japanziam) July 14, 2014
It's not true that Simon Cowell eats babies. But it turns out he does pay the IDF to murder them #GazaUnderAttack http://t.co/7QqKZMDCce

– Simon Edge (@simonjedge) July 20, 2014