Week 6 draws to a close and what a disappointing week it was. The only way you would've been able to get some serious points in was if you were from Liverpool and stuck either half the reds or blues of your respective city in your lineup. SickChirpse's own J Martin and his Tourist Attraction boys bowled out with 53 points to take him within a stones throw of the top 20 but the big applause of the week has to go to William Rowe's Keefy's Krunchers who totalled up 59 points in a week where the average score was more like 25 points. No change at the top from Week 5 but a couple of people are beginning to gain.
Here's how Week 6 played out points wise:
BIG HITTERS: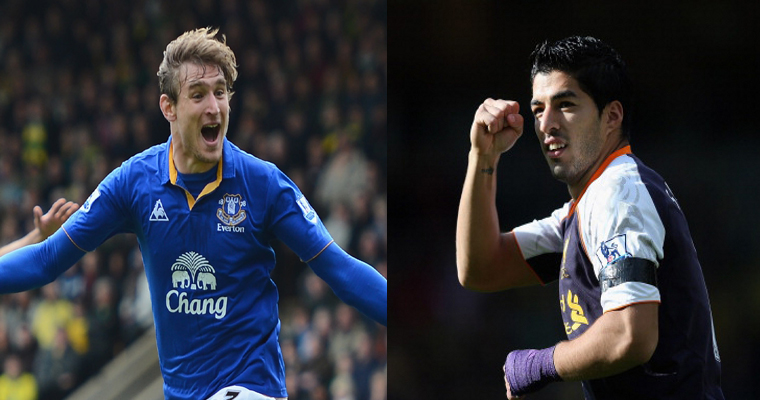 For all those who took Jelavic out of their side just because he picked up a little injury last week, congratulations on not having a pot of glue what you're doing as a manager. The Everton number 7 picked up an assist for Osman's first before adding a brace shortly afterwards to give them a 3-1 victory against The Saints and himself a swift 15 points for the week in the process. With Wigan coming up as their next game away from home I wouldn't be suprised if The Toffees kept up there great form and we see Jelavic and Fellani pounce again this weeked.
However, it was the red side of Liverpool that had the real pointscorers as they visited Norwich and came away with their first 3 points of the season after a 5-2 destruction of The Canaries orchestrated by the buck-tooth beauty himself, Luiz Suarez. When he is not eating an apple through a letter box and missing absolute sitters you can be sure that he's taking some time to bang a couple of goals in the net and who would've bet against him to hit another hat-trick at Carrow Road as lightning struck again. Suarez scored three great goals and notched up an assist to take his weekly points to 20 which is the same score my entire team got. Wanker. With their next game being against Stoke Anti-Football Club at Anfield it might be time to look this gift horse in the mouth and trust in Suarez.
BIG SHITTERS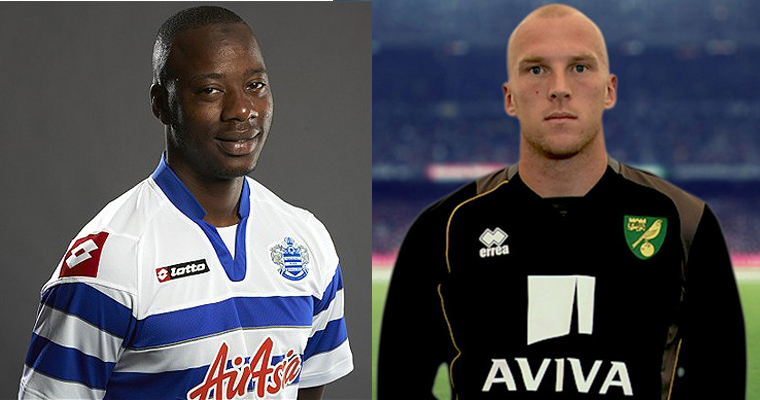 54 minutes into the game at Loftus Road and QPR trail 2-0 to West Ham when super sub Diakite comes off the bench to replace SWP who has not really featured in the game. Within 3 minutes of his introduction Taraabt has scored a long range effort and he has the chance to press on and rescue this 6 pointer for the newly promoted Hoops. However he gets booked with his first challenge of the game at 58 minutes for unsporting behaviour, and then again in 74th minute when he is sent off – taking his points tally to minus 2 for the week and 1 for the entire season. I feel a little bit bad for putting Diakite in the BIG SHITTERS though as it has only come out earlier this month that he might be suffering from depression – nonetheless – if you are one of the idiots with him in your team then do yourself a favour.
As for poor old poor Ruddy, what a disgruntled figure he cut at 90 minutes on the weekend after being pummuled for the previous 90 minutes by an impressive Liverpool team who were said to have had their highest ever pass completion rate in the Premiership. Out of their 6 shots on target 5 hit the back of the net leaving Ruddy in no doubt that his one and only England call up has very likely been and gone. With a trip away to Stamford Bridge on the weekend and Chelsea lucking their way to another 4 goals in midweek I'd fancy that it might be time to invest in the Torres/Mata/Hazard connection and steer very clear of any Canary yellow for Saturday's 3 O'Clock kick offs.
The games this weekend in the Premiership are as follows:
Man City v Sunderland 12:45
Chelsea v Norwich 15:00
Swansea v Reading 15:00
West Brom v QPR 15:00
Wigan v Everton 15:00
West Ham v Arsenal 17:30
Sun 7 Oct 2012 – Premier League
Southampton v Fulham 13:30
Liverpool v Stoke 15:00
Tottenham v Aston Villa 15:00
Newcastle v Man Utd 16:00
There will undoubtedly be goals galore this weekend so we wish you the best of luck catching the big boys who are still setting the pace at the top. Here's the league after Week 6 has hit the fan:
Sick Chirpse
PIN: 8009937
POS
Manager
Team name
Total points
Week pts
Starting
XI pts
Starting
XI pos
Goals
Goal Pos
Overall Position
1
Tom Sands
Prison Break FC
292
32
272
1926
17
10852
3385
2
Gavin Rapaport
Poo
280
29
233
22300
18
5848
6684
3
Huw Barker
HavantGotAClueVille
279
29
279
1123
19
3090
7063
4
Tom Shipley
Apocalypse Dudes
272
49
238
17264
21
767
10401
5
Trevor Brenson
RJBs XI
267
29
267
2794
15
30794
13606
6
Luke Skidmore
bunchofslugs
262
47
215
49699
21
767
17744
7
Emma Craig
The Only Way Is Emma
260
26
237
18230
13
68104
19760
8
Alex Prince
Prince Boatengs
257
34
222
37367
16
18804
22928
9
Peter Jones
Joner
237
29
217
46012
14
47114
53806
10
Dan Filer
ClubTropicanaDrinkFC
234
38
234
21189
14
47114
59954
11
Daniel Ostridge
Ajax Treesdown
233
20
220
40654
14
47114
62007
12
Richard Dulieu
Dyslexic CF
229
23
229
27199
10
144390
70867
13
Piers Dixon
Dixon Balls FC
224
20
231
24684
11
118169
82600
13
Shane Tremlin
Trems Trash
224
39
207
66336
11
118169
82600
13
Charlie Hey
tiki taka jazz cats
224
49
224
34242
16
18804
82600
16
James Blundell
Blundells boys
223
27
191
105159
12
92191
85055
17
Dave Ward
Pimp My Side
222
27
196
92343
13
68104
87419
17
Johnny Callow
Room 362
222
20
232
23450
10
144390
87419
19
Michael Magee
Mickey T FC
221
47
225
32713
13
68104
89973
20
Ross Stearny
stearnpots barmyarmy
220
36
231
24684
13
68104
92397
20
Neil Williams
Lumpers and Kickers
220
39
176
144105
12
92191
92397
22
Elliott Henderson
Barsenal
219
53
194
97444
11
118169
94925
23
Terry Buckingham
Real Madras
218
22
204
73039
13
68104
97403
24
Matthew Stewart
FC Boosh
217
43
200
82429
12
92191
99883
25
Anthony Ward
Park Ji Wonders
214
34
212
55758
12
92191
107400
26
Huw E
Dynamo Kebab
213
30
182
128747
9
169335
109978
26
Ryan Williams
Dirty Buffalo
213
41
202
77629
7
209776
109978
26
Jeff Ingle
Jeffentus
213
37
157
186959
10
144390
109978
29
Nikul Patani
Brown Bear United
209
42
209
61955
13
68104
120090
30
Bobby Peliza
bObbyDazzlers
206
30
179
136552
9
169335
127665
31
Thomas Foley
Unbelievable Crisps
205
44
153
194258
14
47114
130157
32
Billy Mclean
Barcemoaner
204
19
210
59836
12
92191
132793
33
Drew Walsh
Real SocieLAD
203
38
207
66336
8
191310
135352
34
AlexanderMark Jones
Dunblane Massacres
202
20
178
139073
10
144390
137870
34
James Martin
Tourist Attraction
202
53
202
77629
10
144390
137870
34
Patrick Grayson
real aycliffe
202
41
202
77629
11
118169
137870
34
Ross Williams
Tepee Town FC
202
25
181
131493
11
118169
137870
38
Ben Rowland
Atheist FC
201
38
182
128747
13
68104
140332
38
David Williams
Muffin stuffers
201
26
202
77629
13
68104
140332
40
William Rowe
Keefy's Krunchers
200
59
198
87332
16
18804
142809
41
Robbie Atkinson
diables Rouges
198
25
174
149174
9
169335
147522
42
Alex Crawshaw
Crawshaw's Commies
196
19
156
188861
12
92191
152191
42
Mark Endicott
Real Madreadfull
196
26
132
221027
12
92191
152191
42
Shaun Williams
The Galacticos
196
28
169
161355
7
209776
152191
45
Daniel Guy
Dans witwickys
195
18
195
94867
9
169335
154646
46
John Ryan
Obi – 1 Kanobi – 0
194
27
194
97444
9
169335
156974
46
Max Sheppard
Fred West Ham
194
25
159
183033
10
144390
156974
46
Sam MartinRoss
Martin-Boss
194
31
139
214191
11
118169
156974
49
Jamie Sadur
Skid Mark
193
38
193
99962
11
118169
159187
50
Redwan Elharrak
Real Talk
192
33
192
102538
8
191310
161494
50
Lee Walsh
KeansaKunt
192
24
155
190727
12
92191
161494
52
Ryan Addams
Fish fillet
191
27
135
218217
8
191310
163647
53
Ben Lawson
spunkin FC
188
37
218
44186
10
144390
170181
54
smart les
lemon peng-win
187
22
187
115555
12
92191
172251
54
Aaron Hicks
Proud's Prodders
187
39
187
115555
10
144390
172251
56
Matt Morris
Morris FC
185
48
185
120783
9
169335
176370
56
Jon McLeish
Bayern Bru
185
39
170
158945
7
209776
176370
58
Josh Watkins
bluesbrother
184
29
184
123457
9
169335
178345
59
Blake Walton
Walton Wonders
181
34
185
120783
8
191310
184066
59
Luke Henderson
Luke Ronald FC
181
30
174
149174
12
92191
184066
61
Nick Reid
OnOne United
179
30
179
136552
9
169335
187749
61
Tim Williams
TIMW_BRAP KILLAS
179
23
192
102538
10
144390
187749
63
Maxwell Hughes
maxibon united
178
40
177
141599
11
118169
189597
64
Christopher Davies
T Dogg's Ball Hoggs
177
29
143
209299
7
209776
191398
65
Martyn Aeissame
Gratuitous FC
176
19
176
144105
8
191310
193220
65
Anthony Ford
4 Dimensions
176
23
139
214191
10
144390
193220
65
David Hewitt
football
176
36
176
144105
9
169335
193220
68
Louis Day
Spews Stars
173
30
173
151645
11
118169
198253
69
Nestor Schischka
The Winning One
171
15
164
172607
7
209776
201344
70
Richard Gilbert
Queefstars
170
41
170
158945
9
169335
202823
70
Mark Guy
butchys tanks
170
35
159
183033
10
144390
202823
72
Dean Webster
Blues
169
26
182
128747
9
169335
204296
72
Nicky Greenhow
Boomerwanger
169
33
167
165896
6
223863
204296
74
Daniel Haviland
Warriors
168
31
168
163630
5
234104
205739
75
John Twinn
Pav FC
166
49
166
168118
7
209776
208554
76
Mohamed Hussein
Why Always Me FC
164
17
146
205280
7
209776
211144
76
Danny Sharpe
Team Sharpey
164
37
164
172607
8
191310
211144
78
Craig Abbs
Team abber
162
30
162
176901
10
144390
213705
78
Christian Adofo
The Mandem
162
35
162
176901
7
209776
213705
80
Toby Dennett
Dennethinaikos
159
44
183
126047
6
223863
217329
81
Nick Randles
Quallo
158
30
158
185024
7
209776
218433
81
Daniel Watson
SirBobWouldBeProud
158
22
143
209299
4
241369
218433
83
Jack Hopwood
FC Kaiser
156
34
156
188861
6
223863
220503
84
James Roberts
WOOPWOOP United
154
20
147
203844
6
223863
222537
84
Dave Bunker
Team Bunker
154
29
104
234197
11
118169
222537
86
John Hawkins
Mmmmcustard
151
33
145
206631
8
191310
225379
87
Luke Wyborn
The Wombles
150
27
143
209299
5
234104
226307
87
Ashley Townsend
1 MANNING 1 CUP
150
29
106
233801
8
191310
226307
89
Alex Taylor
leave-my-arse-a-lona
149
31
149
200777
12
92191
227199
90
Michael Sinfield
FC Scorgasm
146
34
146
205280
7
209776
229647
91
Sam Lister
inter thevan
145
33
148
202340
4
241369
230368
92
James Tootill
BigDonFC
139
27
151
197637
5
234104
234473
93
Tyler Casey
50 Shades Of Goals
125
31
125
226263
2
249295
241357
94
David Armitage
Real Betties
124
31
124
226875
5
234104
241726
95
Steve French
French FC
119
28
119
229574
2
249295
243339
96
Tomn Pitts
Gareth Keenan Troops
115
13
115
231188
5
234104
244492
97
Wes Holden
Green FC
113
21
113
231897
8
191310
245037
98
Nick Bourne
Greenham Royals
107
32
107
233597
4
241369
246391
99
Theodore Morgan
DangALangTime
106
20
106
233801
8
191310
246586
100
Matthew Hurley
12fort
84
29
84
236299
6
223863
249666