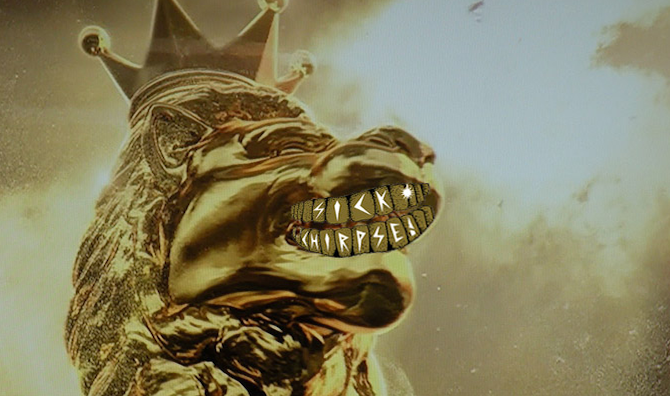 Week 31 is at a close and so is the Premier League action for a while as this week brings with it the disappointment that is international football. Couple of big upsets made their way into the league this month and not quite everyone backed the right players it would seem as there were a couple of shithole scores from teams that you would expect different from.
Top of the league Trems Trash managing a piddly 29 points where The Only Way Is Emma and Barcemoaner managed 26 and 31 points to send them crashing out of the top ten. Robbie Atkinson's Diables Rouges racked up 28 points to take him into the top 20, and Ryan Williams' Dirty Buffalo scored 45 points to take him into the top 5 for the first time this season – just 31 points off top spot. The big shout out goes to early frontrunner for the league Tom Sands and his Prison Break FC who managed 50 points to take him 6 points off from the top spot.
Here's how the Prem went this weekend:
Sat 16 Mar 2013 – Premier League
Sun 17 Mar 2013 – Premier League
We didn't call many of these games right but let's be honest you didn't either did you…Everton stunned the blue half of Manchester with pretty much the same team that rolled over against Wigan last week. Villa battled hard to cancel out Jermaine Penis and co. Southampton took it upon themself to ruin Liverpool with the help of Brad Jones in between the Liverpool sticks. Stoke held the Baggies to a scoreless draw as expected. Arsenal managed to see off Swansea as Sick Chirpse favourite Michu continued his quiet run. Rio Ferdinand ran around like a nutter before setting up Rooney for United's only goal against a struggling now managerless Royals team. The Black Cats snatched a draw against the Canaries. Fulham stunned the Premiership and Spurs themselves by snatching a 1-0 victory at White Hart Lane courtesy of Berba. Lamps rolled back the years and made it 200 not out as he helped see off his old club West Ham. Wigan beat Newcastle and the Toon fans will let you know that this was entirely down to them escaping an awful red card which should have seen Callum McManaman do some porridge.
BIG HITTERS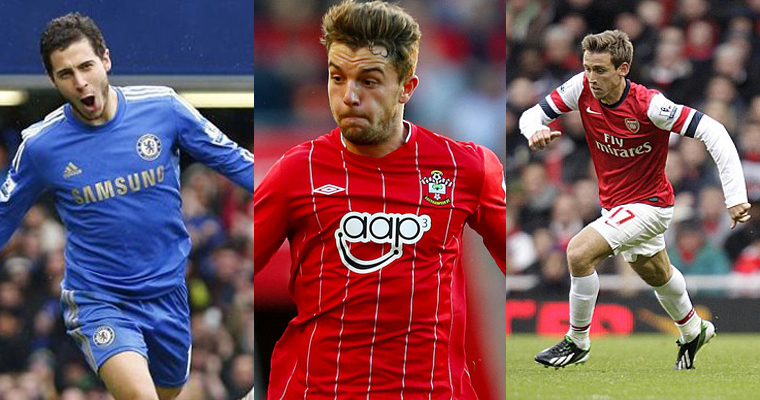 Rodriguez had a top game this weekend as his persistance and knowledge of how shit Brad Jones is paid dividends as he notched up a double figure in this fantasy football week for the first time this season. The Saints man scored and assisted in the same game for the first this season managing 10 points to help Southampton to a 3-1 win.
Chelsea £30 million boy wonder showed his true colours again this week as, alongside Mata, Hazard lit up the London derby from start to finish. He matched Rodriguez by getting a goal and and assist to his name on Sunday but set himself apart with skills that show him for what he is – one of the most exciting players in football today. If you want to see an example of skill and substance in one play just check out his goal to make it 2-0 on Sunday, simply sublime.
The real props of the week go somewhere that they don't often go in the Sick Chirpse Fantasy Football League – to an Arsenal defender – Nacho Monreal. Nacho Libre has managed quite a few points since his debut two weeks that has seen the London outfit keep back to back clean sheets vs Sunderland and Stoke. After his disappointing 1 point last week he has returned with 11 this week to make him the league's top point scorer with his first Arsenal goal to go alongside his third clean sheet. Not a bad finish after a great run from Cazorla and at 3.6 mil he might just be worth tucking into your back four seeing as he has had one shot on target in the Premiership and it went in – there might be some more this season.
BIG SHITTERS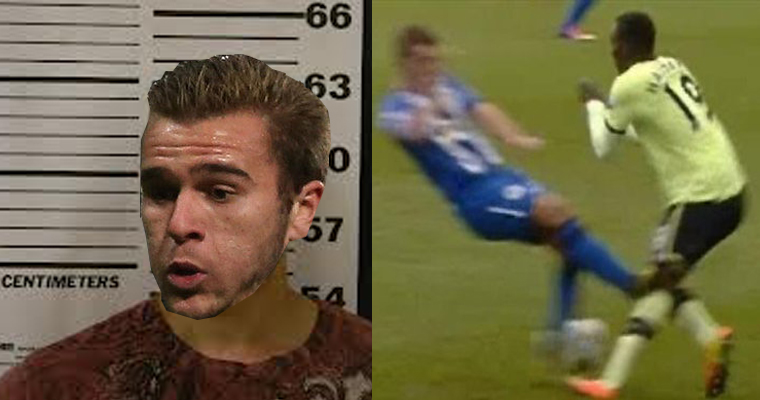 There can only really be one Big Shitter for this week and I suppose that it should be Joe Hart for letting Osman score a slow motion curler against him, actually we could've given it to Brad Jones for his continued attempts to ensure Liverpool don't play European football next year – no no no – it has to go the  way of Callum McManaman for his horror tackle.
McManaman decided that it might be a good idea to take after his hero Roy Keane and try and recreate the Alf Inge Haaland (or however you spell it) tackle and end the season of Newcastle's Haidara. In all fairness the Latics did go on to win the game and arguably wouldn't have had this not happened but still – this is the kind of tackle that you'd expect in prison rules – and you don't expect that from any Premiership team other than Stoke. Here's a little look at the tackle to end all horror tackles:
[yframe url='www.youtube.com/watch?v=_TTuVKjO_9E']
It's internationals week this week, including two huge England games against San Marino and Motenegro, however, don't worry as the Premiership will be back the week after next. Here's the games:
Sat 30 Mar 2013 – Premier League
Sunderland v Man Utd 12:45
Arsenal v Reading 15:00
Man City v Newcastle 15:00
Southampton v Chelsea 15:00
Swansea v Tottenham 15:00
West Ham v West Brom 15:00
Wigan v Norwich 15:00
Everton v Stoke 17:30
Sun 31 Mar 2013 – Premier League
Aston Villa v Liverpool 13:30
Mon 1 Apr 2013 – Premier League
Mon 1 Apr 2013 – FA Cup
For your not so welcome wait for Prem games the powers that be are also granting you the chance to watch the hugely anticipated Chelsea United replay on Bank Holiday Monday – what more could you want?
Man Utd will do Sunderland away – RVP finally to end his 6 game goal drought. Arsenal to see off Reading at the Emirates. Man City to return to winning ways as Pardew's men sink further into the bottom half of the table despite battling hard to only lose 2-1. Chelsea to win convincingly away at Southampton who pull a late goal back to worry Chelsea a bit on their start to something like 4 games in a week. Swansea to battle out a draw at home to Spurs with Gareth Bale still hunting for a return to form after a week's absence. West Brom to beat the Hammers away despite Nolan returning from injury to bag a goal. Wigan to continue their standard late escape by beating Norwich at home. Everton to beat Stoke and put the nail into Pulis' anti-football shaped coffin. Villa to score goals but Guzan unable to keep the Coutinho/Suarez game at bay. Fulham to draw against QPR. Penis scores again. Chelsea to finish Utd off to go onto win another FA Cup – just because they can. Lampard penalty to win it.
Here's how the league looks for those who are still on the hunt for the £100 prize money:
Follow AMJ @amjeezie
Sick Chirpse
League PIN: 8009937
POS
Manager
Team name
Total points
Week pts
Starting
XI pts
Starting
XI pos
Goals
Goal Pos
Overall Position
1
Shane Tremlin
Trems Trash
1357
29
1051
87956
77
112974
27753
2
AlexanderMark Jones
Dunblane Massacres
1353
41
1032
102172
97
14699
29524
3
Tom Sands
Prison Break FC
1351
50
1046
91650
95
20256
30416
4
Peter Jones
Joner
1348
44
1062
80058
83
77546
31841
5
Ryan Williams
Dirty Buffalo
1326
45
1025
107346
85
65973
43530
6
Tom Shipley
Apocalypse Dudes
1324
35
1155
27091
95
20256
44803
7
Nicky Greenhow
Boomerwanger
1319
40
877
200627
84
71662
47782
8
Huw E
Dynamo Kebab
1318
29
971
147509
83
77546
48391
9
David Williams
Muffin stuffers
1273
34
1207
11453
82
83458
78565
10
Johnny Callow
Room 362
1271
44
1096
57251
81
89423
79972
11
Emma Craig
The Only Way Is Emma
1268
26
967
150302
76
118629
82133
12
Billy Mclean
Barcemoaner
1255
31
1016
114233
86
60393
91472
13
Huw Barker
HavantGotAClueVille
1247
38
1197
13758
80
95399
97073
14
Gavin Rapaport
Poo
1244
43
1053
86479
82
83458
99211
15
Jeff Ingle
Jeffentus
1240
31
762
228028
85
65973
102073
16
Drew Walsh
Real SocieLAD
1237
32
1129
38780
75
124319
104245
17
Alex Prince
Prince Boatengs
1227
34
1064
78583
82
83458
111269
18
Matthew Stewart
FC Boosh
1224
31
997
128654
81
89423
113333
19
Bobby Peliza
bObbyDazzlers
1218
32
1036
99181
77
112974
117505
20
Robbie Atkinson
diables Rouges
1213
48
837
214159
74
129815
120851
21
Lee Walsh
KeansaKunt
1207
31
889
195442
80
95399
124843
22
Ross Stearny
stearnpots barmyarmy
1199
18
1052
87197
69
156474
130008
23
Terry Buckingham
Real Madras
1190
45
963
153041
79
101264
135660
24
Alex Taylor
leave-my-arse-a-lona
1186
28
855
208670
79
101264
138034
25
Dave Ward
Pimp My Side
1183
35
1024
108135
69
156474
139896
26
Luke Skidmore
bunchofslugs
1179
33
1022
109699
80
95399
142349
27
Michael Magee
Mickey T FC
1174
22
1209
11058
75
124319
145181
28
Anthony Ford
4 Dimensions
1170
38
887
196335
64
179803
147466
29
Tim Williams
TIMW_BRAP KILLAS
1169
28
920
179945
79
101264
148012
29
Nikul Patani
Brown Bear United
1169
27
1169
21953
84
71662
148012
31
Ryan Addams
Fish fillet
1167
26
766
227566
69
156474
149141
32
Aaron Hicks
Proud's Prodders
1163
36
935
171076
72
140740
151339
33
Shaun Williams
The Galacticos
1162
33
1122
42393
66
170846
151911
34
James Martin
Tourist Attraction
1155
29
1155
27091
75
124319
155718
35
Dan Filer
ClubTropicanaDrinkFC
1154
22
1101
54213
71
146046
156251
36
Neil Williams
Lumpers and Kickers
1150
26
994
130921
72
140740
158305
37
Max Sheppard
Fred West Ham
1149
40
919
180519
70
151277
158833
38
Trevor Brenson
RJBs XI
1148
25
1148
29949
64
179803
159335
39
David Hewitt
football
1147
31
1019
111973
68
161304
159898
40
Blake Walton
Walton Wonders
1141
18
999
127165
66
170846
162881
40
Jon McLeish
Bayern Bru
1141
29
1066
77204
68
161304
162881
42
Ben Rowland
Atheist FC
1136
36
951
161048
74
129815
165361
43
Luke Wyborn
The Wombles
1122
37
828
216547
69
156474
171915
44
Redwan Elharrak
Real Talk
1111
18
1111
48508
60
195950
176860
45
Piers Dixon
Dixon Balls FC
1102
39
1023
108914
58
203183
180755
46
Sam Lister
inter thevan
1101
31
958
156452
68
161304
181162
47
Ben Lawson
spunkin FC
1100
29
1026
106565
64
179803
181615
47
Martyn Aeissame
Gratuitous FC
1100
28
924
177669
60
195950
181615
49
Ashley Townsend
1 MANNING 1 CUP
1096
36
712
232208
61
192046
183193
50
Mark Endicott
Real Madreadfull
1095
23
786
224909
67
166135
183587
50
Sam MartinRoss
Martin-Boss
1095
34
686
233465
68
161304
183587
52
Richard Dulieu
Dyslexic CF
1094
30
1094
58490
64
179803
183966
52
Elliott Henderson
Barsenal
1094
17
976
143996
63
184086
183966
54
Ross Williams
Tepee Town FC
1093
14
1050
88687
63
184086
184411
54
Thomas Foley
Unbelievable Crisps
1093
33
936
170475
62
188089
184411
56
smart les
lemon peng-win
1090
30
1090
61007
63
184086
185657
57
John Twinn
Pav FC
1084
10
919
180519
69
156474
188023
58
John Ryan
Obi – 1 Kanobi – 0
1078
32
1078
69040
73
135262
190228
59
Toby Dennett
Dennethinaikos
1076
43
1056
84342
55
213127
191008
60
Louis Day
Spews Stars
1071
21
1071
73738
58
203183
192907
61
William Rowe
Keefy's Krunchers
1066
18
992
132397
78
107060
194754
62
Luke Henderson
Luke Ronald FC
1056
19
978
142572
63
184086
198337
63
Christopher Davies
T Dogg's Ball Hoggs
1050
31
857
207973
50
227355
200436
64
Dean Webster
Blues
1037
37
946
164248
52
221929
204748
65
James Blundell
Blundells boys
1028
25
850
210212
67
166135
207568
66
Anthony Ward
Park Ji Wonders
1022
20
903
188928
59
199605
209461
67
Daniel Ostridge
Ajax Treesdown
1020
27
1059
82156
54
216225
210077
68
Charlie Hey
tiki taka jazz cats
1015
7
1015
114992
66
170846
211597
69
Jack Hopwood
FC Kaiser
1012
39
938
169270
47
234177
212469
70
Matt Morris
Morris FC
1006
25
1006
121879
65
175409
214215
71
Mohamed Hussein
Why Always Me FC
1003
27
886
196816
54
216225
215042
72
Patrick Grayson
real aycliffe
1001
26
1001
125695
63
184086
215573
73
Danny Sharpe
Team Sharpey
994
25
994
130921
59
199605
217473
74
Daniel Haviland
Warriors
990
25
990
133824
40
245997
218587
75
Jamie Sadur
Skid Mark
977
13
1019
111973
50
227355
221964
75
John Hawkins
Mmmmcustard
977
31
839
213605
51
224697
221964
75
Daniel Guy
Dans witwickys
977
22
977
143296
47
234177
221964
78
James Roberts
WOOPWOOP United
958
26
892
194068
34
252069
226534
79
Michael Sinfield
FC Scorgasm
956
21
956
157806
57
206669
226986
80
Josh Watkins
bluesbrother
949
23
949
162378
39
247216
228538
80
Daniel Watson
SirBobWouldBeProud
949
27
871
202979
48
232029
228538
80
Christian Adofo
The Mandem
949
32
949
162378
64
179803
228538
83
Dave Bunker
Team Bunker
930
25
764
227799
57
206669
232324
84
Steve French
French FC
922
10
922
178818
43
241661
233833
85
Richard Gilbert
Queefstars
920
16
920
179945
44
239930
234208
86
James Tootill
BigDonFC
913
16
924
177669
34
252069
235497
86
Maxwell Hughes
maxibon united
913
9
904
188467
49
229784
235497
88
Alex Crawshaw
Crawshaw's Commies
894
19
896
192248
53
219149
238629
89
Nick Randles
Quallo
884
23
884
197695
40
245997
240103
90
Mark Guy
butchys tanks
880
29
833
215275
51
224697
240657
91
Nick Reid
OnOne United
876
16
876
201068
38
248378
241223
92
Nestor Schischka
The Winning One
844
25
744
229785
33
252855
245078
93
Nick Bourne
Greenham Royals
834
20
834
214998
44
239930
246119
93
Theodore Morgan
DangALangTime
834
10
834
214998
51
224697
246119
95
Tomn Pitts
Gareth Keenan Troops
819
16
819
218646
38
248378
247457
96
Wes Holden
Green FC
790
10
790
224253
34
252069
249589
97
Craig Abbs
Team abber
763
21
763
227914
32
253534
251160
98
David Armitage
Real Betties
756
13
756
228653
43
241661
251484
99
Tyler Casey
50 Shades Of Goals
714
19
719
231755
21
258155
253264
100
Matthew Hurley
12fort
708
18
708
232424
44
239930
253497