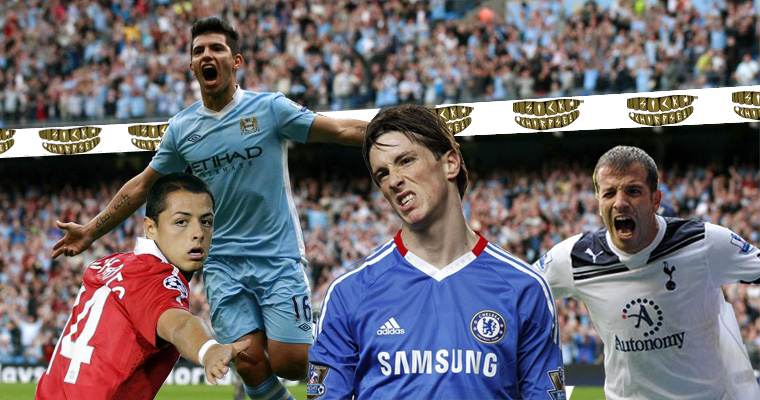 Week 15 came and went as many others have this year with Tom Sand's Prison Break FC strolling away with more points than you've had hot dinners. However, a couple of turn up for the books this week has resulted in only three teams in the top 30 getting over 50 points. Another good week from David Williams' Muffin Stuffers with 56 points takes them up to a respectable 9th and only 25 points off the top 5 and 51 points from Luke Skidmore's Bunchofslags sees him go up to 4th for the first time this year – however – the big point haul of the week came courtesy of Sick Chirpse's own AMJ and his Dunblane Massacres as 67 points takes them to 7th – 7 points off Gavin Rapaport's Poo and just 61 points off the top.
You may not have taken any of the predictions into account for last week or you might've stuffed Adam Johnson and Sessengon in to the fray to double up your points – one thing's for sure though – you didn't think Norwich would win away but they did. Arsenal got back to winning ways as we said, Villa and Stoke drew 0-0 as we said – however Rafa managed to turn the tide for the Chelsea faithful with a 3-1 victory that seen Torres grow a dick. Michu bagged a couple but we were wrong about Norwich folding. Wigan and QPR did what they do best and the have QPR won yet twitter page keeps on trucking as expected. Utd took the spoils at the Etihad despite us predicting the draw. Everton win – we're right. Fulham win 2-1 we are bang on the money. But we get the Liv/Hammers and Sunderland/Reading game wrong.
Here's the results:
Sat 8 Dec 2012 – Premier League
Sun 9 Dec 2012 – Premier League
Mon 10 Dec 2012 – Premier League
Tue 11 Dec 2012 – Premier League
BIG HITTERS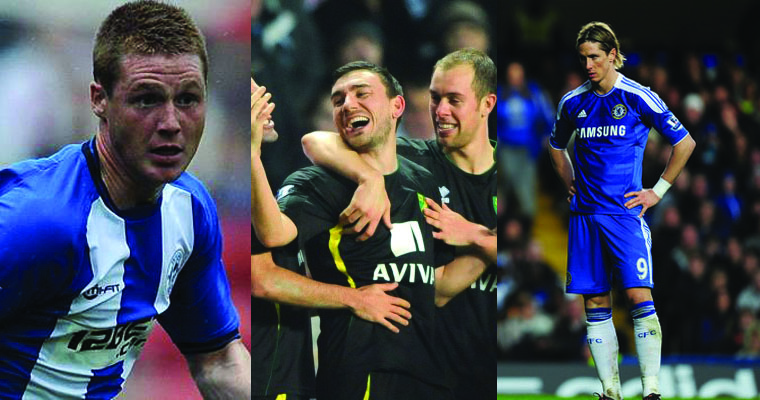 James McCarthy did this week what he has only managed once this season so far – he scored more than 2 fantasy league points in one week. The young Irishman managed an assist against Swansea in Week 10 but has otherwise done nothing but just turn up and play…until week 16. The Young Lactic's midfielder put his side ahead on 19 minutes before trumping Harry Redknapp's and QPR's first win of the season by equalising with his second goal in the 74th minute taking himself to a cool 12 points for the week and keeping The Hoops rock bottom. Snodgrass had another exciting week in his first season in the Premiership as he managed to squeeze 13 points into his fantasy football score and help steer Norwich to an impossible to predict win away at the Brittania Stadium. He scored the goal which was eventually deemed the winner as well as grabbing two assists to become the first player in the Premiership this season to assist two or more goals and score in the same game. Well done Snodders. Can you hear the drums Fernando? It has been a long time since they have been rumbling in the Premiership – in fact not since he made a brief appearance in Week 2 Fantasy football roundup and we recommended that you got shot of him as his goal scoring form might be up. It had in fact been a wonderfully embarrassing 12 hours and 30 minutes of Premier League football without a goal before his first of the weekend hit the net. He then knocked in his first penalty in English football followed by an acrobatic attempt at a hat-trick that ended up hitting the woodwork and setting up Juan Mata for Chelsea's third. Torres' cheeky 15 points makes him the high scorer of the week and makes Rafa Benitez look like he might be worth the money if he can claim back some of Torres' 50 million in goals this year.
BIG SHITTER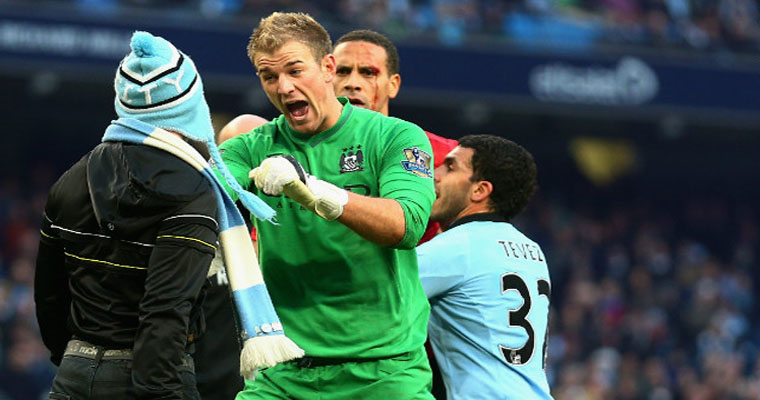 He may have stopped some kid merking Rio, he may be the best keeper in England, he may join the the 100+ England Caps team in the future but he may have just cost Manchester City the Premier League crown. It's very early on in the season I understand that but just as the 6-1 thrashing proved costly come the end of the season so may the 2-3 loss this weekend and Joe Hart has got to take a good portion of the blame. First and foremost, it's worth pointing out that he was actually beaten 4 times by every shot on target but had one of them luckily struck off due to the assistant referee's incompetence. Secondly Man Utd only managed to hit the target on a few occasions but each time they scored – that is not the showing of a Goalkeeper coming in as the most expensive goalkeeper in the fantasy league. His big fat 0 points in the fantasy league stats this week does not even go someway to describing how badly this man played. He looked flat-footed and uninterested for pretty much 90 minutes (94 maybe, don't forget Fergie time). Here's the YouTube clip of the weekend's game including the old slug's attempts at saving Rooney two cheeky goals and RVP's Nasri inspired free kick:
[yframe url='https://www.youtube.com/watch?v=h7JPqjQbPW8′]
Here is the weekend's fixtures in all their glory:
Sat 15 Dec 2012 – Premier League
Newcastle v Man City 12:45
Liverpool v Aston Villa 15:00
Man Utd v Sunderland 15:00
Norwich v Wigan 15:00
QPR v Fulham 15:00
Stoke v Everton 15:00
Sun 16 Dec 2012 – Premier League
Tottenham v Swansea 13:30
West Brom v West Ham 16:00
Mon 17 Dec 2012 – Premier League
Big things to note down are that Chelsea are not here as they off winning the Fifa Club World Cup in Japan and as a result Southampton also don't have a game. So if you've got Eden Hazard in as any sane person would get him out for two weeks and the same for Rickie Lambert if you are a Saints junkie.
Predictions:
Newcastle manage another goal against big shitter Joe Hart but Man City restore order with a Tevez masterclass. Liverpool struggle to beat Villa but scrape through just about. Man Utd quieten any resurgence of Martin O'Neill's Black Cats with Rooney pulling the strings again. Norwich battle out a hard earned draw with Wigan. QPR draw again, this time with Fulham as their away form struggles to even eclipse QPR's poor home form. Stoke do their best to pull Everton's footballing ways out from underneath them but the Toffees sneak victory. Spurs beat Swansea at home despite Michu scoring, again, 2-1. West Brom return to winning ways at home to West Ham despite Kevin Nolan having a stormer. Reading and Arsenal don't repeat the 7-5 game and the Arsenal players don't accidently throw their shirts into the crowd at half time this time but Arsenal do win as they try and put the embarrassing loss to Bradford out of their minds.
Here's the league as it stands boys:
Sick Chirpse
League PIN: 8009937
POS
Manager
Team name
Total points
Week pts
Starting
XI pts
Starting
XI pos
Goals
Goal Pos
Overall Position
1
Tom Shipley
Apocalypse Dudes
671
44
544
31248
50
1244
6097
2
Tom Sands
Prison Break FC
652
40
556
21808
44
11865
12334
3
Shane Tremlin
Trems Trash
646
45
476
119643
35
80329
15050
4
Luke Skidmore
bunchofslugs
625
51
496
89584
44
11865
29186
5
Huw Barker
HavantGotAClueVille
623
48
617
1782
43
15928
30868
6
Gavin Rapaport
Poo
617
44
510
69691
39
41330
36278
7
AlexanderMark Jones
Dunblane Massacres
610
67
445
163551
40
33593
43325
8
Huw E
Dynamo Kebab
606
35
496
89584
33
103258
47605
9
David Williams
Muffin stuffers
598
56
556
21808
38
49812
56869
10
Emma Craig
The Only Way Is Emma
597
38
529
46093
32
115303
58098
11
Alex Prince
Prince Boatengs
595
39
494
92536
40
33593
60694
12
Dave Ward
Pimp My Side
590
45
526
49434
37
59291
67132
13
Johnny Callow
Room 362
588
32
532
42824
32
115303
69752
14
Jeff Ingle
Jeffentus
586
49
382
217944
38
49812
72398
15
Matthew Stewart
FC Boosh
582
42
480
113532
37
59291
77739
16
Trevor Brenson
RJBs XI
572
47
572
12677
31
127263
91410
17
Terry Buckingham
Real Madras
568
41
472
125725
35
80329
96983
17
Mark Endicott
Real Madreadfull
568
40
437
173324
34
91683
96983
19
Michael Magee
Mickey T FC
566
24
560
19166
32
115303
99834
19
Nikul Patani
Brown Bear United
566
35
566
15640
38
49812
99834
21
James Martin
Tourist Attraction
565
29
565
16188
33
103258
101261
22
Anthony Ford
4 Dimensions
561
45
429
182081
31
127263
106819
22
Drew Walsh
Real SocieLAD
561
25
508
72474
32
115303
106819
24
Ben Lawson
spunkin FC
559
43
507
73814
31
127263
109614
25
Peter Jones
Joner
556
48
489
100062
31
127263
113833
26
Bobby Peliza
bObbyDazzlers
555
36
506
75208
33
103258
115197
27
Nicky Greenhow
Boomerwanger
551
42
406
203170
32
115303
120719
28
Robbie Atkinson
diables Rouges
546
43
403
205467
33
103258
127440
28
Ross Stearny
stearnpots barmyarmy
546
41
507
73814
27
173268
127440
30
Ryan Addams
Fish fillet
544
41
391
213304
31
127263
130006
31
Lee Walsh
KeansaKunt
541
52
370
222812
42
20859
133909
31
Ryan Williams
Dirty Buffalo
541
38
454
151723
29
151010
133909
33
Billy Mclean
Barcemoaner
540
51
423
188175
35
80329
135169
33
Richard Dulieu
Dyslexic CF
540
57
540
34856
28
162307
135169
35
Blake Walton
Walton Wonders
537
37
543
32127
28
162307
138963
36
Neil Williams
Lumpers and Kickers
533
49
492
95517
30
139256
144143
37
Thomas Foley
Unbelievable Crisps
532
49
475
121150
30
139256
145337
37
William Rowe
Keefy's Krunchers
532
33
510
69691
37
59291
145337
39
Redwan Elharrak
Real Talk
530
36
530
44961
29
151010
147808
40
Martyn Aeissame
Gratuitous FC
529
40
443
166065
27
173268
149028
41
Ross Williams
Tepee Town FC
526
50
544
31248
27
173268
152577
42
Dan Filer
ClubTropicanaDrinkFC
521
27
521
55423
28
162307
158417
43
Ben Rowland
Atheist FC
517
32
444
164840
34
91683
163027
43
smart les
lemon peng-win
517
19
517
60455
28
162307
163027
45
Jon McLeish
Bayern Bru
516
30
485
106012
25
193181
164155
45
Ashley Townsend
1 MANNING 1 CUP
516
54
330
232007
31
127263
164155
47
James Blundell
Blundells boys
515
33
442
167302
32
115303
165270
48
Daniel Ostridge
Ajax Treesdown
511
43
534
40710
25
193181
169533
49
Patrick Grayson
real aycliffe
509
32
509
71093
30
139256
171630
50
Piers Dixon
Dixon Balls FC
507
29
560
19166
23
210462
173754
50
Charlie Hey
tiki taka jazz cats
507
14
507
73814
30
139256
173754
52
Sam Lister
inter thevan
501
50
488
101545
29
151010
179832
52
David Hewitt
football
501
32
483
108966
27
173268
179832
54
Sam MartinRoss
Martin-Boss
500
30
301
234668
34
91683
180816
55
Tim Williams
TIMW_BRAP KILLAS
499
26
443
166065
31
127263
181778
55
Louis Day
Spews Stars
499
28
499
85162
29
151010
181778
55
Alex Taylor
leave-my-arse-a-lona
499
44
421
190131
33
103258
181778
58
Christopher Davies
T Dogg's Ball Hoggs
497
40
414
196543
24
202266
183635
59
Toby Dennett
Dennethinaikos
496
46
529
46093
19
234723
184598
59
Shaun Williams
The Galacticos
496
37
511
68308
21
224361
184598
61
John Twinn
Pav FC
493
42
467
133158
29
151010
187285
61
Nick Randles
Quallo
493
34
493
94006
19
234723
187285
63
Elliott Henderson
Barsenal
488
42
436
174488
24
202266
191710
64
Matt Morris
Morris FC
484
53
484
107451
26
183570
195002
64
Dean Webster
Blues
484
27
459
144745
25
193181
195002
66
Anthony Ward
Park Ji Wonders
482
28
456
148958
25
193181
196721
67
John Ryan
Obi – 1 Kanobi – 0
480
38
480
113532
28
162307
198359
68
Max Sheppard
Fred West Ham
479
39
430
181078
28
162307
199101
69
Michael Sinfield
FC Scorgasm
475
36
475
121150
29
151010
202190
70
Aaron Hicks
Proud's Prodders
473
35
465
136092
24
202266
203700
71
Mohamed Hussein
Why Always Me FC
472
39
437
173324
20
229968
204414
72
Luke Henderson
Luke Ronald FC
462
41
444
164840
25
193181
211245
73
Danny Sharpe
Team Sharpey
461
32
461
141927
27
173268
211888
74
James Roberts
WOOPWOOP United
456
38
453
153041
14
249480
215014
75
Alex Crawshaw
Crawshaw's Commies
455
29
421
190131
27
173268
215651
76
Daniel Guy
Dans witwickys
454
28
454
151723
19
234723
216219
77
Jamie Sadur
Skid Mark
452
16
450
157073
23
210462
217370
77
Nick Reid
OnOne United
452
34
452
154400
23
210462
217370
77
Daniel Watson
SirBobWouldBeProud
452
35
405
203973
20
229968
217370
80
Daniel Haviland
Warriors
445
30
445
163551
16
245196
221149
81
Maxwell Hughes
maxibon united
441
18
459
144745
21
224361
223212
82
John Hawkins
Mmmmcustard
438
41
417
193840
25
193181
224681
83
Luke Wyborn
The Wombles
435
32
379
219247
23
210462
226075
84
Richard Gilbert
Queefstars
431
25
431
179989
21
224361
227845
85
Nestor Schischka
The Winning One
429
35
389
214427
15
247575
228683
86
Dave Bunker
Team Bunker
425
30
302
234616
30
139256
230271
87
Christian Adofo
The Mandem
421
13
421
190131
23
210462
231827
88
James Tootill
BigDonFC
418
18
399
208306
15
247575
232958
88
Jack Hopwood
FC Kaiser
418
22
426
185136
16
245196
232958
90
Josh Watkins
bluesbrother
416
38
416
194715
19
234723
233703
91
Craig Abbs
Team abber
404
38
404
204745
20
229968
237583
92
Steve French
French FC
398
16
398
209012
16
245196
239294
93
David Armitage
Real Betties
396
35
396
210244
19
234723
239825
94
Wes Holden
Green FC
395
25
395
210942
16
245196
240100
95
Theodore Morgan
DangALangTime
390
25
390
213846
22
217838
241300
96
Mark Guy
butchys tanks
388
20
389
214427
22
217838
241752
97
Tomn Pitts
Gareth Keenan Troops
385
25
385
216479
17
242371
242398
98
Tyler Casey
50 Shades Of Goals
369
18
369
223191
12
252118
245366
99
Nick Bourne
Greenham Royals
338
15
338
230811
15
247575
249269
100
Matthew Hurley
12fort
314
19
314
233714
19
234723
251121